Annie May spent some time this past weekend at Dwell on Design. She explored the convention center floor and rounded up her top five favorites.
1. Project H Design
Project H Design connects the power of design to the people who need it most, and the places where it can make a real and lasting difference. This Hammock Bag from collection, Abject Object, a line of multifunctional products designed and manufactured in partnership with the Downtown Women's Center and Chrysalis, was one of my favorites at Dwell! Read more here.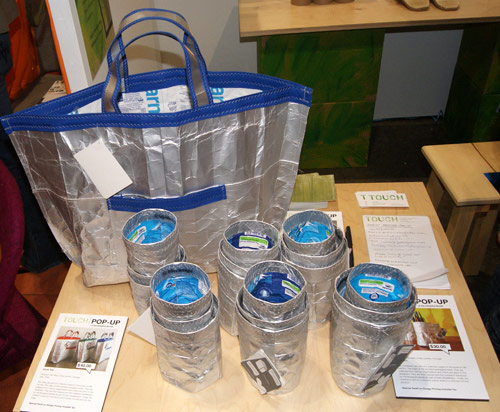 2. TOUCH and Inhabitat team up for a pop-up eco shop
It's the stories behind these Cilindros and the Alcofa Tote that make them one of my favorites. Each are made out of recycled milk cartons that are cleaned and then distressed by handicapped individuals as part of their rehab. They are then sent to a woman's prison where the final product is sewn together. Read more about the shop.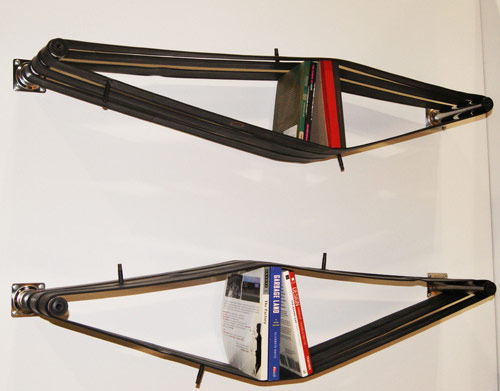 What a great bookshelf made out of old bike tires!
3. Parvez Taj
I'm a sucker for geometric patterns and bold colors…what can I say?! I was excited to hear that he does custom work and will print on any medium!
I loved the prints on reclaimed wood.
4. Hold It Home
This recycled tire tabletop from Hold It's "Reclaimed Modern" collection was incredible!
5. Rugs by Designs by Ferdod
The entire collection was filled with stunning abstract and geometric patterns and such bold colors. All rugs can be customized and the price point is great!