Located on the top floor of a Dutch mansion, this apartment presented challenging issues for Global Architects who renovated the space. Wanting to keep the spatial feel the same, they had to figure out a way to bring back the traditional function of the rooms to make the apartment both functional and efficient. They did just that in a project they call RE-USE.
The largest section of the apartment contains the living room on one side and the kitchen and dining room on the other with two simple, built-in closets to partition the spaces a bit. They also provide extra storage and help hide the fridge and washing machine.
During the renovation, brick walls were discovered and now are featured prominently in the kitchen and dining room. It brings texture to the smooth white finish of the rest of the walls and ceiling.
Despite bringing in the storage divider, the apartment still feels open and spacious. The open pass-through lets light flow between the spaces. Industrial elements were incorporated, like the stainless steel kitchen cabinets, the corten steel stove, and the raw grain wooden floors.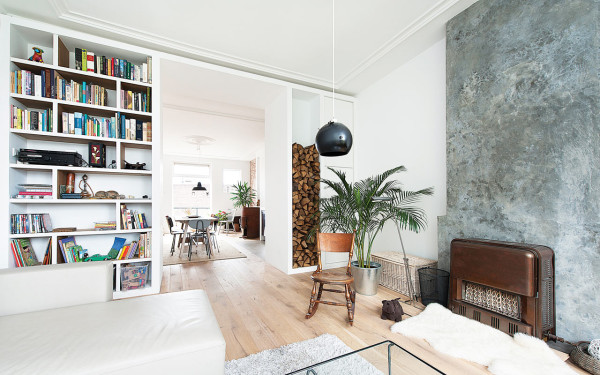 The original concrete structure surrounding the fireplace was kept intact and adds another layer of texture to the minimalist apartment.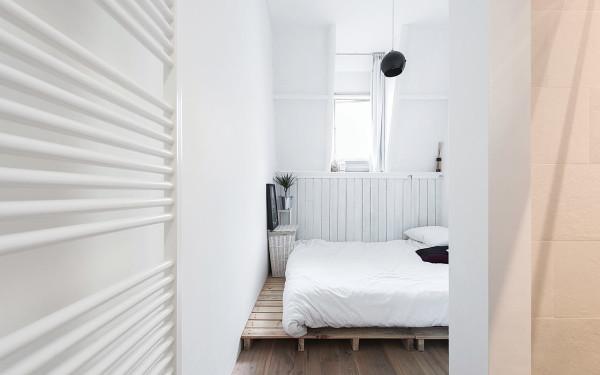 Wooden pallets lift the mattress off the floor and create a cozy bed.
I love that the bathroom sink is hovering above the floor attached to an old piece of furniture that was found in the house.
Photos by Mirko Merchiori.

Design From Around The Web