IMM Cologne consists of the International Furnishing Show across some 11 halls, plus three parts to the co-located International Kitchen Show or 'Living Kitchen.' It's vast! Following my post about [D3] Design Talents, this is a round-up of my top picks from the whole show.
"La Garderobiére" by Berlin-based Zascho Petkow is a combination of shelf and hooks that can be used to store and display anything from shoes to handbags. His attention to detail and investment in craftsmanship and materials make this a really special piece.
I loved the Sphere table by Hella Jongerius for Vitra too. In these days of always-on open plan working, it seems people are craving a little more privacy, and this desk provides a perfect and stylish solution.
I'm not usually drawn to the kitchens and bathroom areas of trade shows, but this concept "Vision Hidden Kitchen" by Warendorf really caught my eye. At the flick of a switch, it entirely disappears behind a stunning feature wall finished with natural rust. Genius!
"Thread Family" by Berlin and Shanghai-based Coordination, is a set of flexible furniture made from a thread and seat lathed from walnut wood on a welded steel base, inspired by high quality bicycle frames. I loved the simplicity of the design and the bright range of colors.
Even more simplicity from Supergrau – the Kloezze System furniture comes in packs of six blocks of pine, oak and cherry and two elastic bands in yellow or blue, so it can be configured however you like – into a single seat, a long bench, a coffee table, shelving, or even an abstract sculpture.
I also liked the "Expandable Modular Storage System" from ST16 in very on-trend neutral grey and wood with neon corner fixtures; winner of an Interior Innovation Award at the show.
Inspired by modernism, and the "objective beauty, the logic and logistics of industrial and commercial objects" Schellmann Furniture produces office furniture to brighten up any workspace.
Following the utilitarian aesthetic, these lights from Pulpo in glass and powder coated steel, use just a touch of wood to add warmth.
Throughout the show were "Featured Editions" – creative installations created by exhibitors in conjunction with designers or architects. Konstantin Grcic's playful statement for Flötotto was "PROgona Vitticeps," a 'snake' made from seat shells extracted from the company's "PRO" school chair.
Another installation showed the component parts and resulting furniture of e15's reissued Kramer knock-down furniture (a precursor to flat pack). Bauhaus drop-out Kramer was a pioneer of 'knock-down' and social housing in Germany, and according to e15, is a much underrated designer. Perhaps now he'll finally get the recognition he deserves.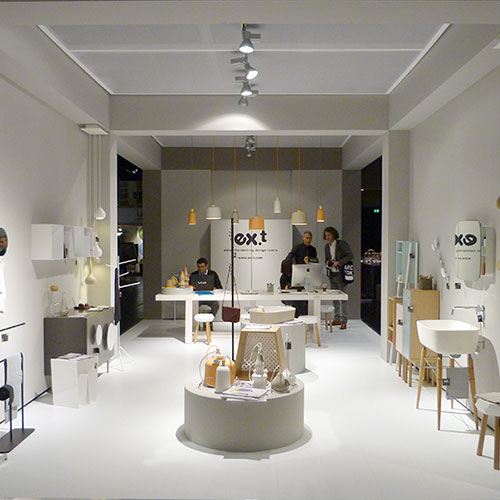 ex.t pride themselves on scouting the world for new design talent and then hand-crafting selected projects in their Tuscan family-run factory. They were even showcasing work this year from designers they'd met at IMM last year.
Every now and then you see a design that solves a problem in a completely new way. These spice jars from Dua Collection can be unscrewed using just one hand, and they combine putting the lid back on and putting them away into a single action. With the right contents inside, they look fabulous too.
With thanks to Modenus and BlogTourCGN sponsors, Miele, Blanco, Mr Steam, Du Verre Handware, Axor and NKBA. 

Design From Around The Web