Located on a two acre lot in Toronto, the Echo House project includes a renovation and addition to better suit a city-dwelling family's modern lifestyle. The family hired Paul Raff Studio to design a harmonious residence that would pay homage to their Asian Canadian heritage, resulting in a spacious, tranquil home with a connection to the surroundings.
The ecologically sustainable renovation of the existing home was a radical overhaul that created an open, light-filled interior that opens up to the lush landscape. The exterior was given a new envelope complete with high-performance insulation that, along with the new efficient heating, cooling, and ventilation system, reduces the home's energy usage by more than 50%.
One of the most notable changes resides on the front creating a bold entrance forecourt. A series of reclaimed douglas fir screens help provide privacy for the guest rooms while keeping views of the garden. The three-dimensional screens use dark metal fasteners which give nod to traditional craftsmanship of Korean antiques.
The front exterior is clad in a mix of materials for a more dramatic look, including Algonquin limestone and dark raked stucco.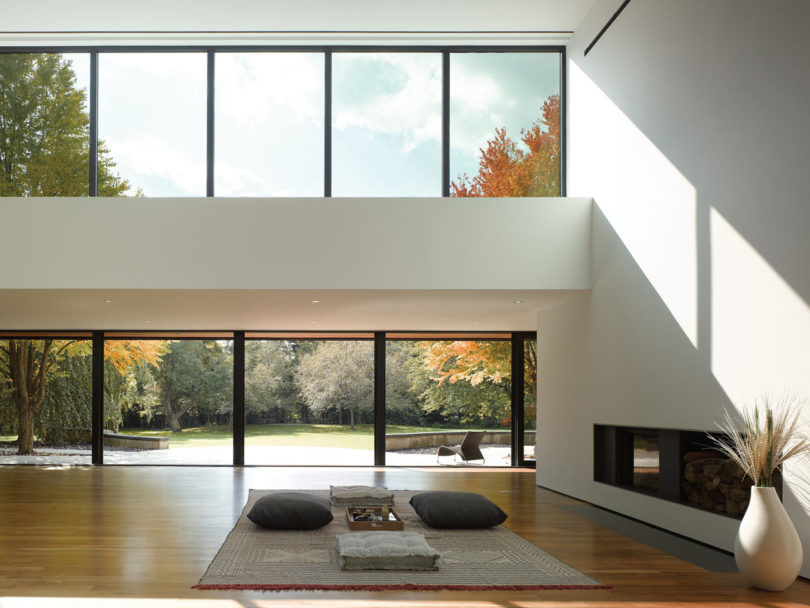 In the main living area, the space opens up to the outdoors offering expansive views of the greenery. The living room features 18-foot ceilings with a row of windows at the top that help flood the space with natural light. Those windows also frame views of the sky and the tops of trees.
A pivoting laser cut steel door outfitted with Asian-inspired patterns leads to the indoor pool area.
Additional reclaimed douglas fir shows up on the ceiling above the pool.
Photos by Steve Tsai and Ben Rahn/A-Frame.