It's par for the course to expect the announcement of new technologies on a personal or even industrial scale at CES, but this might be the first time a company has used the annual technology industry event to reveal a project on a civic scale. Toyota's Woven City is imagined as a fully connected ecosystem powered by hydrogen fuel cells, an idealized prototype "city" of the future to build upon a 175-acre site at the base of Mt. Fuji in Japan.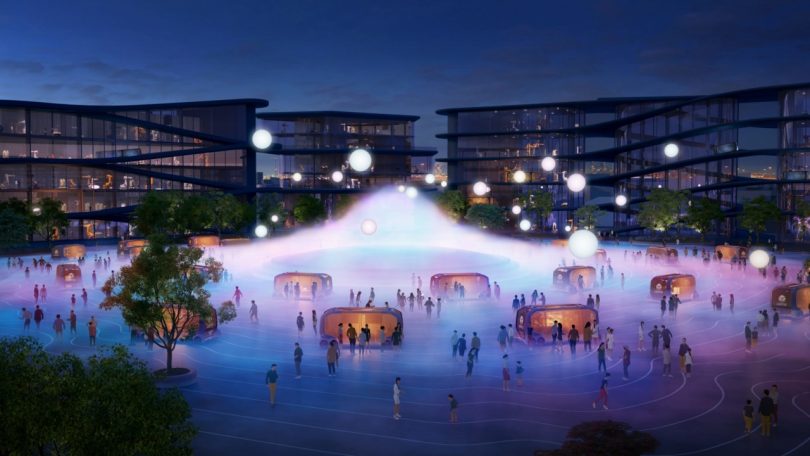 History is littered with utopian projects founded to realize a better life for some or all, but Toyota's intent is to utilize the Woven City project less as a genuine growing city and more of a self-contained "living laboratory", one inhabited by full-time residents and researchers specializing in a myriad of research including autonomy, robotics, personal mobility, smart homes, and artificial intelligence in a real-world environment.
Building a complete city from the ground up, even on a small scale like this, is a unique opportunity to develop future technologies, including a digital operating system for the city's infrastructure. With people, buildings and vehicles all connected and communicating with each other through data and sensors, we will be able to test connected AI technology… in both the virtual and the physical realms … maximizing its potential.
– Akio Toyoda, president, Toyota Motor Corporation
Toyota commissioned Danish architect, Bjarke Ingels, founder and creative director of Bjarke Ingels Group (BIG) as the chief visionary assigned to interlink the automotive and technology giant's vision of connected, autonomous, emission-free, and shared mobility solutions of the near-future with an architecture empowering their everyday use and access. The city plans include an organic grid pattern engineered to maximize mobility for all grade tiers of speed and autonomy: for faster vehicles only, for a mix of lower speed, personal mobility and pedestrians, and for a park-like promenade for pedestrians with native vegetation and hydroponics.
The city also represents an effort to build urban life with sustainability woven in from the start, rather than added in after the fact. Wood is the primary building material, chosen to minimize the carbon footprint, while traditional Japanese wood joinery and robotic production methods additionally lessens environmental impact.
In California every newly-built home must now be outfitted with enough solar panels. Woven City is to follow suit, covering every rooftop with photo-voltaic panels to generate solar power to complement power generated by hydrogen fuel cells. Only time will tell if the utopian Woven City will expand beyond its initial 2,000 "citizen" population, with groundbreaking for the site planned for early 2021.

Design From Around The Web