The third exhibition at Prague's Designblok was Art House, a showcase of work that sits on the border between art and design, held within the baroque Colloredo Mansfeld Palace. Above: Lighting by Czech designer Eva Eisler.
The collection by Markéta Kratochvílová and Tadeáš Podracký was inspired by the outer reaches of the Earth's atmosphere. "The materials of the lamps; reflective, mirrored gold-plated steel and translucent glass create a lighting style based on a breathtaking vision of surviving outside our home planet," said the designers.
Krehky launched the "Light Robot" by Jakub Berdych at Arthouse…
..and these Toadstool vases and bowls designed by Ineke Hans, which were inspired by Czech cuisine and customs.
At the ballroom of the palace, Tjep presented its latest body of work: Bronze Age, a collection of furniture made by whittling away wooden furniture and using the reduced form to make a cast, in which the final bronze pieces are created.
"I like the idea that bronze is precious and is therefore implicitly sustainable – it is either preserved or remelted but never discarded. Who knows, maybe these pieces contain a couple of remelted ancient bronze swords," said founder and lead designer Frank Tjepkema.
Existing work, such as Tjep's mechanical wings, was also on display. "I'm really proud that it's hanging up there with the angels," said Tjepkema.
Chanel created an installation for all the senses with perfume-infused ice teardrops that melted throughout the event releasing their scent into the air.
The Viennese collective Breaded Escalope, founded in 2008 by Sascha Mikel, Martin Schnabl, and Michael Tatschl, had created an installation of carved logs, as part of their work "addressing issues of socioeconomic and cultural relevance concerning spaces and artefacts".
French design studio Bureau de Design et d'Architecture were showing a collection of furniture in pastel shades and rounded forms.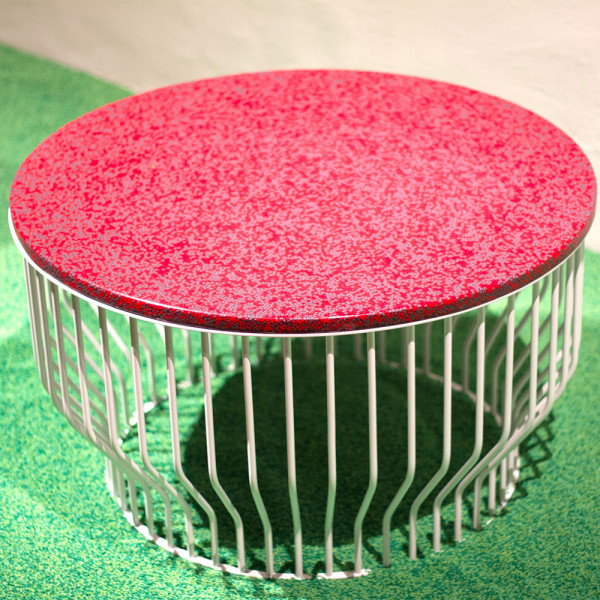 Young Czech designer Jakub Pollag was exhibiting his work before moving to London to begin his masters degree at London's Royal College of Art. The surface is made from tiny spheres held in place with an epoxy resin.