I love this home called the "Tree House" by Pauline Tremblay and Pierre Léveillé. Located in Quebec's Eastern Townships, it's the first house at Sanctuaire Mont Cathédrale, a housing project designed to blend into its surroundings by using sustainable materials and technologies.
"The Sanctuaire is the result of more than ten years of reflection on one simple question: Do we have to be outside to experience nature?" says project manager Pierre Léveillé. The idea was to create a home in which one could experience nature as closely as possible. Inspired by a tree, the house's first floor is covered in wood to represent a tree trunk. I love the second floor, which is covered in copper tiles, or "leaves," which will, over time, develop a green patina just like its surrounding vegetation.
The home is also warm and natural inside, but also modern. The harmonious use of wood, marble, quartz, steel, glass, and porcelain as well as the wood beams bring the outside in. I'd totally live here.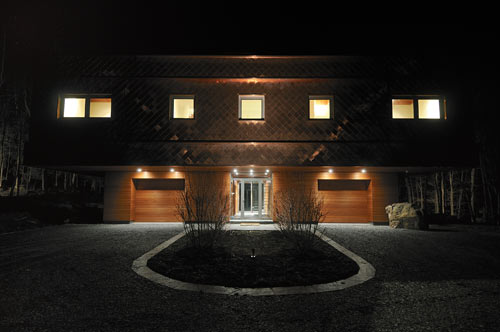 More photos:
Project: Sanctuaire Mont Cathedrale
Location: Grand Lac Brompton, Eastern Townships, Quebec
Architect: Pierre Cabana
Engineer: Comtois, Blouin & associate
Designers: Pauline Tremblay
Project Manager: Pierre Léveillé
Master-Builder: Alain Lizotte
Photographs: Richard Poissant
Date of Completion: Autumn 2010
Real Estate Broker: Joseph Montanaro, Sotheby's

Design From Around The Web