Without a doubt, Italy blazes the trail when it comes to tile but other countries are slowly trying to catch up to their innovative approaches. Design Milk recently headed to Bologna, Italy, to attend Cersaie, the international tile and bathroom furnishings exhibition to check it all out. This massive event showcases so much mind-blowingly good stuff that it will make you want to renovate and tile every wall, floor, and ceiling you can get your hands on. The exhibition was also full of trends that you'll be seeing in showrooms, home improvement stores, and magazines in months and years to come. Below are the ones I spotted around every corner and they're definitely here to stay.
Wood
Whether it was simple wood grains or an over exaggerated wood-like finish, tiles for the floors and walls that look like wood, were everywhere. I couldn't get enough of the Type-32 by Diego Grandi for Lea Ceramiche (above) with their printed zig zag graphics that you could do in a number of combinations and colors.
Ricchetti had all kinds of tiles with the look of wood, even these that look like they've been stained or white-washed in various tones.
Pattern
Patterns of all types were prevalent at the show. Tiles are no longer just boring white or beige, now they're bold with pattern directly on the tile or patterns created by the layout and colors of the tile. Either way, there's no excuse for bland surfaces anymore. The Ornamenta Camou [PDF] (above) collection from Gamma Due is definitely not for the faint of heart with its gutsy camouflage pattern and adventurous color palettes.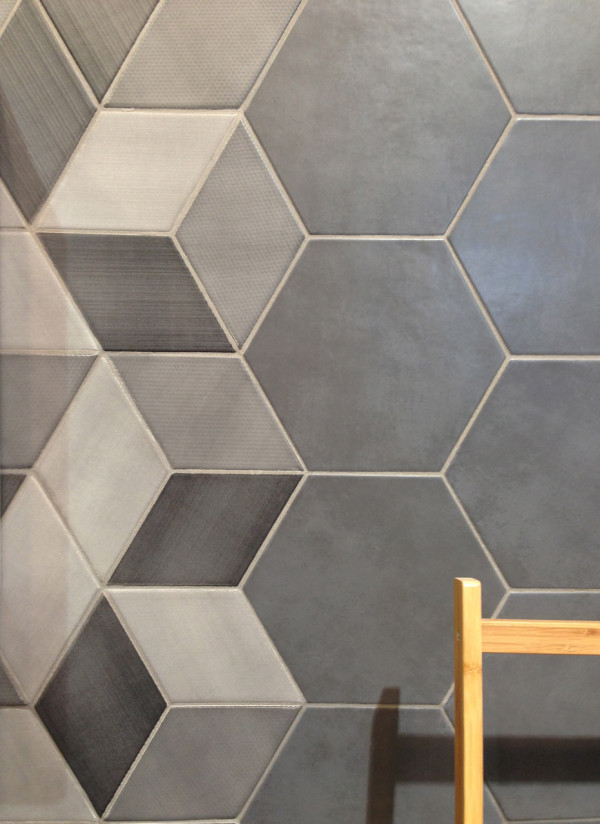 The Hex tiles, part of the CONCRET ROMA collection from Natucer, work for the walls and floors. The tiles come textured and in an array of neutral colors letting you create your own unique geometric pattern.
Metallics
Metallics are everywhere, from home furnishings to artwork, so it's no surprise they've made their way into tile. The Bisazza Design Studio used simple square mosaic tiles (above) in neutral metallic colors to create this really cool curvy pattern.
The Roberto Cavalli Home collection from Ricchetti combined the ever popular animal print with the metallic trend, this time in a bold gold finish.
Mosaics
Speaking of mosaics, mosaic patterns were all over, especially in patchwork-style patterns. Using simple square tiles, companies were letting their creative flags fly with every kind of mosaic pattern possible. These neutral mosaics from Appiani (above) can be used on the floor or walls to add visual interest to any space.
Reviglass had some eye-popping patchwork mosaics full of bright and primary colors and bold, catchy patterns.
Shapes
Tiles are no longer just square or rectangular. Now they come in every shape under the sun, including super long curvy ones and massive irregular shaped ones. I love how the Industrial collection (above) from Floor Gres can be made to look like a massive puzzle for your floors or walls.
Lapitec's display of floor-to-ceiling tiles, or Italian surfaces as they call them, cut in a curvy formation come in a host of colors and textures making the possibilities of where to hang these endless.
3D
Raised or three-dimensional tiles have been creeping up leaving the flat surfaces behind. At the forefront of this trend is Cotto Etrusco, whose wall tiles (above) were raised in one corner making them look as if they were shingles on a roof that were slowly starting to come up when it's windy outside.
Another one from Natucer, but these raised tiles made me think that they were blinds with the way they appear to hang over one another.
Our trip to Cersaie was supported by Ceramics of Italy.