Trunk books are a new series of personal, sensual books that are intended to be filled with beautiful and fascinating content. The idea is that they're filled with treasure, just like an old trunk in the attic. Each book will focus on a part of the human body and be filed with short pieces of writing, art, and photography. There will be interviews, essays, fiction, photo essays, poems, and art works addressing multifarious dimensions of the theme. The series is aimed at an intelligent, engaged audience interested in both "high" and popular culture and is intended to have wide appeal.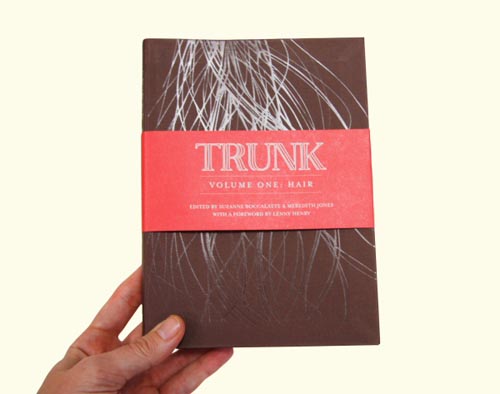 TRUNK Volume One: HAIR
This strange anthology of writing and art explores the cultural, historical, religious and social aspects of the evolutionary ambiguous outgrowth of protein known as hair. It contains diverse pieces about: the monobrow, hair in medicine, Victorian mourning jewelery, Medusa, Aboriginal hair, hairdressing, transgender, the Brazilian, psychiatry, embroidery, dreadlocks, Rapunzel, chemotherapy, nightmares, magic, shaving, Mormon beards, women's beards, order and chaos, brain damage and hair extensions.
TRUNK Volume Two: BLOOD (Submissions due October 30, 2009)
Blood is a fluid, living tissue—a complex mix of platelets and plasma. Far more than a physical and chemical solution of red and white cells, haemoglobin and protein, blood is the most ubiquitous and profound symbol for the deepest of human concerns: life, death, love and sex.
We seek writing and art that explores the fascinating cultural, medical, geographical, historical, religious and social aspects of this abundant bodily fluid. Submissions must be accessible, curious, entertaining and stimulating.