We've featured many a product for the bathroom here – sinks, vanities, faucets, tubs, you name it. Since bathroom design has come so far in recent years, we decided to roundup some of our favorite bathroom sinks, faucets, tubs and accessories. Here are 12 companies that are doing it well:
The Outline collection designed by MayaDesign Studio for Ceramica Althea comes in various color combinations and highlights the parts that are rarely seen in bathroom furniture.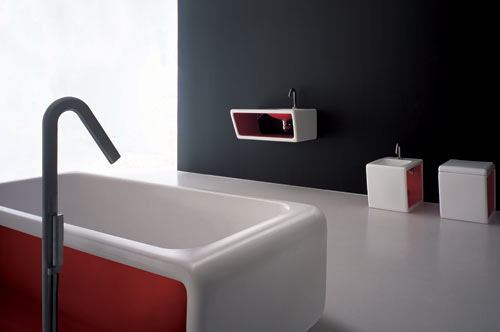 Leave it to Karim Rashid to bring bath fixtures to the future. He partnered with Saturn Bath Company in Korea to create the collection in which he plays with color and shapes and takes these pieces to the next level. If these aren't enough, check out his tub that's equipped with a waterproof TV.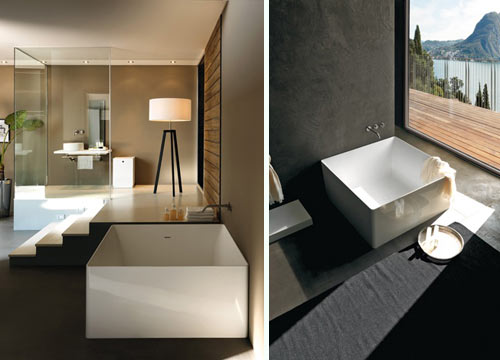 You can't go wrong with the minimalist design of the square and round bathtubs from Colacril's Atmosfere+PLUS Collection. Based in Italy, this company makes beautifully simple and modern bath pieces that are timeless.
From Il Bagno Bandini comes the Atmosfera collection for those wanting to take a huge color leap in their bathroom. The ultra bright green/yellow color and the curved lines will never be boring. If this isn't your color, they have another version in bright orange too.
The only thing to be said about this Erosion Sink from Gore Design Co. is that it blows my mind with awesomeness. It's definitely one of our all-time favorites.
The Crystal Collection from Olympia Ceramica consists of white porcelain fixtures that are faceted adding an unexpected geometric detail.
The Splash Collection from Disegno Ceramica is appropriately named. The colorful sinks and shower bases are available in white, yellow, orange, or green, and will definitely add a "splash" of unique design and color to your bathroom.
Perhaps one of the coolest looking tubs is the Arne by Nada Nasrallah and Christian Horner of Soda for Rapsel. Inspired by the famed Arne Jacobsen Egg Chair, the curvy backed tub is made of titanic resin.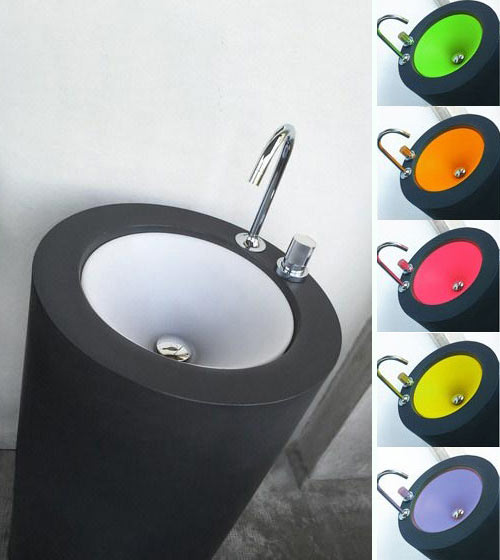 The Italian manufacturer Wet has introduced a cylindrical pedestal sink named Fusion II, designed by Jan Puylaert & Mariandrea Zambrano, that's made out of recycled polypropylene. You can choose from many eye-popping colors, as well as having the optional LED illumination.
The Stealth Collection from GRAFF might be the most aerodynamically designed, angular faucet on the market. Taking its cues from real live stealth aircrafts, this faucet is definitely a conversation piece.
Maybe you prefer a little bling or something more decorative? These Mosaiko toilets and bidets from Ceramica Stile are handmade and feature a modern grid pattern in whatever color you choose (platinum or lilac anyone?).
And last, but certainly not least, is the Vertebrae® vertical bathroom from Design Odyssey Co. that features seven rotating pieces. It consists of two showers, cistern with a mirror, two storage areas, a sink, and a toilet, all of which rotate on a central spine. If you live in a tight space or you like to go against the norm, than this might be for you.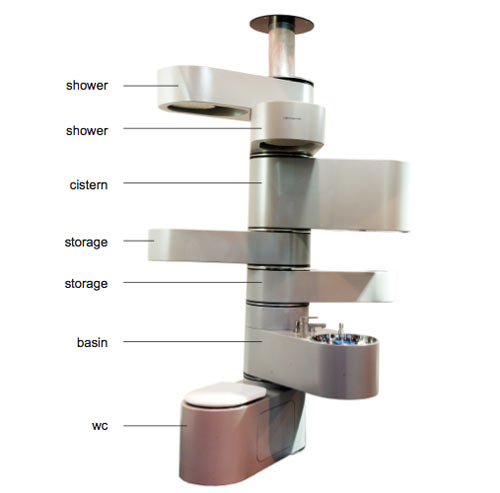 Do you have any favorite bathroom furniture?