Twelve is a new initiative from the Stockholm Furniture Fair, showcasing established designers. In its inaugural year, it was curated by Disegno editor, Johanna Agermann-Ross (seen above with Mattias Ståhlbom, who co-designed the space) and she was on hand to introduce it on the first day of the fair. She said, "The idea for Twelve is quite interesting. As a journalist, I often speak with new and established designers, and one thing that hits you when you speak openly and honestly with designers is no matter how established they are, there's always some uncertainty about where the next commission will come from, who they will next work with, where their next money is going to come from to pay for studio bills or living expenses."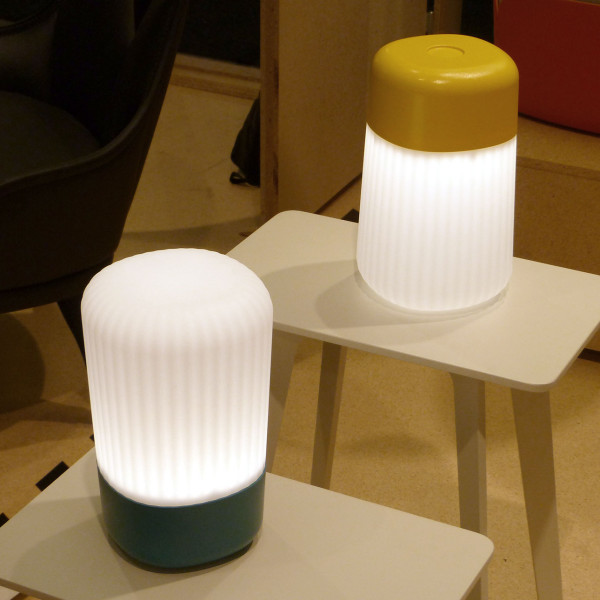 "The creative industry is very different to many others in that even when you're established, you still have to go out and pitch for work. To have this type of exhibition, showing more established designers' work, that's not always in manufacturing and designers who have not yet teamed up with a manufacturer, is a really valuable experience, for both the manufacturers and the designers."
"To be able to show work outside of the commercial constraints a product that's in manufacturing is an important part of any designer's process. You might see this sort of exhibition in town – a lot of designers open up their studios or show in exhibition spaces, but here it's really nice that it's in such close proximity to many of the brands that designers are looking to work with in the long run."
"I was the curator of this first exhibition of Twelve. I think 'curator' is a grand word for my involvement, because in some ways I just made a selection. There were close to 30 applications and I had to make a selection based on the quality of the work, but also the diversity of the work and the diversity of the people, so for me it's very interesting that we have very very established alongside the quite recently graduated."
"The other thing that was curious to me was how it all work next to each other. We have quite an open space designed by Gabriella Gustafson and Mattias Ståhlbom of TAF. Everyone shares this quite open platform, without barriers between them, and yet being clear that different people are showing. I think that's worked really well. I've just seen the exhibition for the first time this morning in its finished state and I think it looks really impressive. It's a really exciting array of design."
"I hope that Twelve will grow. I think there is a real need for initiatives like this within a space like Stockholm Furniture Fair. As far I know it hasn't happened anywhere else, but hopefully Stockholm Furniture Fair will set a precedent for other shows around the world."
It was great to see some of the designers I met during Stockholm Design Week last year included in Johanna's selection, like Jonas Wagell whose products are pictured above. He's already worked with brands like Muuto, Mitlab and Normann Copenhagen.
And of course Farg & Blanche, and their 'wood tailored' Layer Chair, which we wrote about earlier this week.
I loved Bernstrand & Co's Foto Lamp inspired by the lamps used in photography and filming and designed by Thomas Bernstrand and Mattias Ståhlbom.
Katja Pettersson's Planned Obsolescence series includes a stool you can't sit on, a lamp that doesn't light up, a table that can't carry weight and a vase that melts in contact with water, all made from very flimsy silk paper and cellulose glue! Her project explores the phenomenon of planned obsolescence, most common in electronic goods, where products fail after a pre-determined length of time to ensure a repeat sale.
At the very very established end of the spectrum, Peter Opsvik is somewhat of a legend in Norway and his Globe Garden chair, originally designed as flexible public seating, is a design classic. It was relaunched at the Furniture Fair in a new iteration for Moment AB.
Gabriella Gustafson and Mattias Ståhlbom, aka architecture studio TAF, the designers behind the exhibition space, also had their own stand and were showing scale models of their work.
Stockholm-based industrial design duo Folkform created their Bench in Three Types of Leather to challenge preconceptions of what's considered valuable – it is a patchwork of real and faux leather, but you'd never know to look at it. Their Skyline lamp (the copper lamp on top of the table in the image above) was recently gifted to Queen Silvia of Sweden from the Prime Minister for her birthday.
Lisa Hilland is from Malmo, Finland, but was educated at Central Saint Martin's in London. She's created an entirely new form for a vase, which allows flowers to be laid horizontally.
Also by Lisa Hilland, Harlequin is designed to give you a place to sit while tying your shoelaces, getting your scarf and gloves out of the drawer, and catching a last look at yourself in the mirror before hitting the streets.
All in all, Twelve is a great addition to a show that already shows huge support for graduate and new designers through Greenhouse.

Design From Around The Web