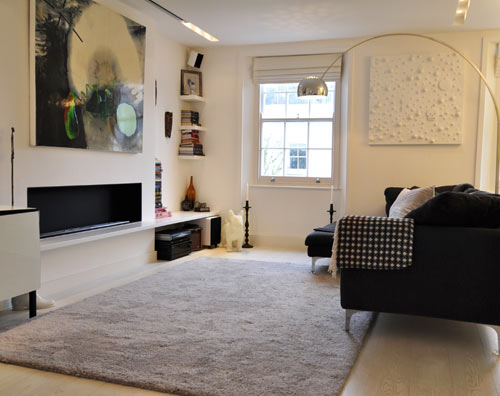 This two-bedroom maisonette in Notting Hill, London was recently re-designed by Kia Designs Interior Design studio. Wait until you get a load of the hovering bed!
From the designer:
Sitting in an enviable area, surrounded by the rustic charm of Portobello Market and the numerous fine restaurants and shops that adorn Notting Hill, this maisonette deserved to reflect its location.  The intention with regard to this Design was to marry the contrasting concepts of 'clinical' and 'warm' – to achieve such a look the Design team knew that they would have to combine sharp, sleek and quirky.  The kitchen achieves a 'wow' factor through its audaciously clean look which is offset by homemade art on the walls and statuettes which both indicate an artistic tendency within the home.

The bathroom has a glow to it which is achieved through a really warm blue/grey floor tile and white gold mosaic stones which sit within the pattern on the feature wall.  The bedroom is quite remarkable too – the floating bed couldn't be sleeker whilst the bedroom draws are unpredictable in their design and maintain the artistic flow of the home.

The beauty in this project is the paradox with a clinical look serving as a backdrop for immense warmth and artistic beauty in an area which contains both.