Chris Grimley, of architecture firm over,under, hired himself to tackle the challenge of transforming his own two-bedroom apartment into a home for a family of four. The 1,250 square foot residence in Boston's South End is now the perfect place they can call home as it combines Grimley's talents with those of his wife Kelly Smith.
The interior is now bright thanks to the all-white surfaces that bounce the light around. Using garage paint, the floors now have a sheen that aids that. They also cut holes in walls to give the interior a more open floor plan. The kitchen was gutted to include a built-in pantry and more counter space.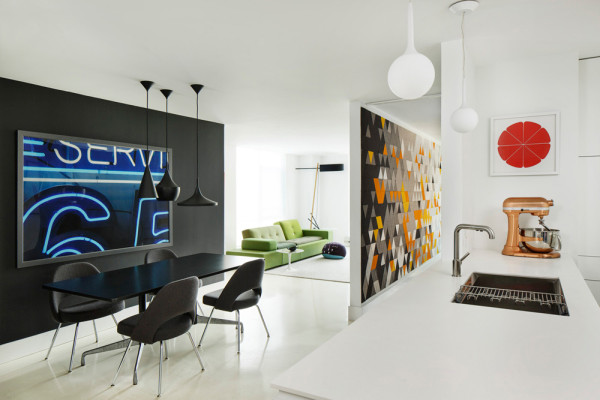 The kitchen is now open to the dining room, which features two contrasting black walls.
Extra storage was incorporated wherever they could fit it in, like in the living room and bedroom.
A felt wall installation in the baby's room (they did own felt design company FilzFelt before Knoll acquired it, after all) was created using triangles of multi-colored felt adding a fun, geometric design element.
Photos by Bob O'Connor.