Two Levitating, Rammed Earth Villas in a Costa Rican Jungle
Two Levitating, Rammed Earth Villas in a Costa Rican Jungle
1/35 Photos
2/35 Photos
3/35 Photos
4/35 Photos
5/35 Photos
6/35 Photos
7/35 Photos
8/35 Photos
9/35 Photos
10/35 Photos
11/35 Photos
12/35 Photos
13/35 Photos
14/35 Photos
15/35 Photos
16/35 Photos
17/35 Photos
18/35 Photos
19/35 Photos
20/35 Photos
21/35 Photos
22/35 Photos
23/35 Photos
24/35 Photos
25/35 Photos
26/35 Photos
27/35 Photos
28/35 Photos
29/35 Photos
30/35 Photos
31/35 Photos
32/35 Photos
33/35 Photos
34/35 Photos
35/35 Photos
Dagmar Štěpánová of Formafatal recently completed the first rammed earth structures in Costa Rica that can be yours to rent for your next vacation. Achioté is a pair of minimalist villas in Playa Hermosa that look as if they're levitating above an overgrown cliff by the Pacific Ocean. The homes are situated in a jungle-like environment with lush greenery all around for ultimate privacy. Throughout the design and building process, Formafatal paid careful attention to sustainability and protecting the wild locale.
Each villa's design is based on the energies felt in their locations by Štěpánová before construction even began. The vibrations led to two opposing designs – the Jaspis Villa (jaspis = jasper, bright villa) reflecting a yin energy connected to the sky and ocean with shades of sand being the standout color, while the Nefrit Villa (nefrit = jade, dark villa) reflects the yang energy with connection to the ground and the surrounding jungle and featuring a red-terracotta color.
Cantilevered roofs extend out like the floors to provide protection from the sun and weather conditions.
All of the outer walls are built using the clay soil they excavated during the construction process, thereby reducing materials that needed to be imported in for the build. New tropical plants were added once the villas were complete.
The layers of the rammed earth walls stand out, adding texture while telling the home's story one layer at a time.
The 90-square-meter (approx. 969 square feet) villas are identical in size, layout, and orientation, while each structure utilizes its own choice of materials and color scheme.
The center of each design is the bed, which can be sectioned off with sliding curtains for privacy and mosquito protection. The endless views can be enjoyed from the bed through the frameless glass walls. There's another bed on the terrace if one wanted to relax in nature.
Just off to the side of the villas are built-in pools which will make you feel like you're swimming right in the jungle.
To make the rammed earth walls happen, Formafatal enlisted Brazilian specialist, Daniel Mantovani of Terra Compacta, to help train local craftsmen to complete the work.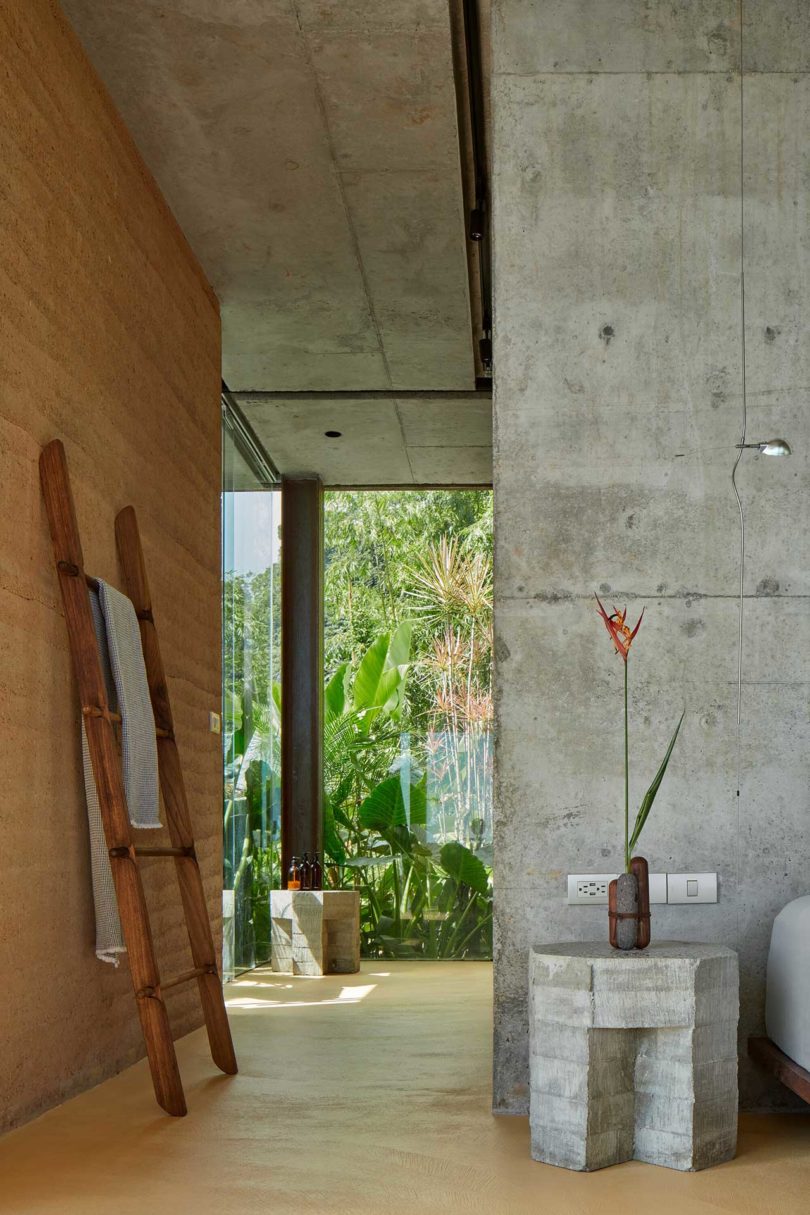 Behind the beds, the kitchens and bathrooms live with no doors separating the spaces.
The bathroom sinks, shelves, kitchen counters, and beside tables are all custom made from concrete.
The Nefrit Villa features a much darker and moodier color palette, despite the villas being identical.
To book the villas, visit achioteproject.com.
Photos by BoysPlayNice.