I love it when someone's idea is not just clever, but it makes you stop and think like Lambchop's Typographic Fences project. The Michigan-based artist weaves words and phrases into chain-link fences using ordinary flagging tape.
Get There (first image also)
Train tracks by Hoover Road, Ann Arbor, Michigan
March 2012
Added to various fences in the United States and around the world, the giant words appear to almost float mid-air like suspended thoughts to make you stop, take a breath, and acknowledge what it says.
Remember This
Corner of Maiden Lane and Plymouth Road, Ann Arbor, Michigan
March 2012

Remember This (close up)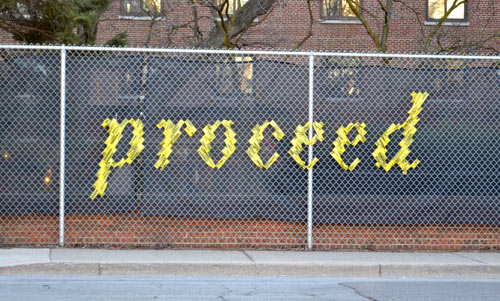 Proceed
Corner of Observatory Road & Medical Center Drive, Ann Arbor, Michigan
April 2012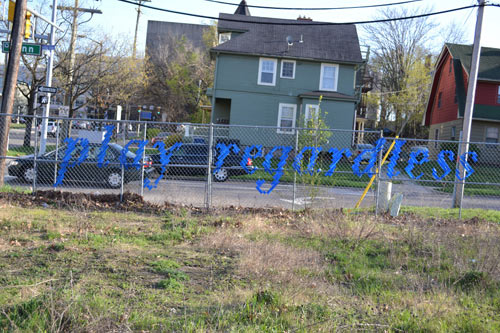 Play Regardless
Abandoned fence Brownfield site, Ann Arbor, Michigan
March 2012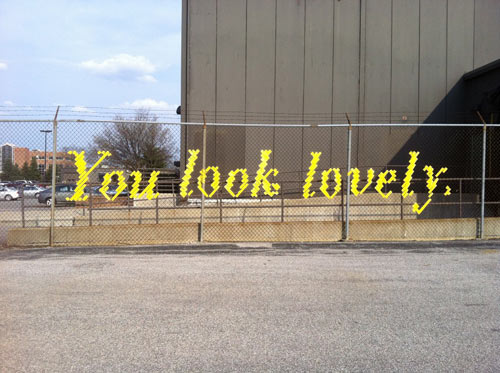 You look lovely.
Green Road Park & Ride, Ann Arbor, Michigan
March 2012
Subject To Change
Huron Parkway, Ann Arbor, Michigan
April 2012
Look Around
Plymouth Road, Ann Arbor, Michigan
April 2012
Without Notice
Washtenaw, Ann Arbor, Michigan
April 2012
Someday I Will Ignore My Doubts
Kaisaniemi Park, Helsinki, Finland
May 2012

Someday I Will Ignore My Doubts (far away)