At this year's WestEdge Design Fair, we saw a familiar face on the show floor. Our very own Jaime Derringer collaborated with Woven Concepts to design the Untitled Collection, a series of rugs that highlight the beauty of a simple brushstroke reminiscent in the practice of Japanese calligraphy, or Shodo.
Woven Concepts experimented in the product development process to use a symmetric weave to innovate texture. Combined with Jaime's intuitive and fluid brushstrokes, created by hand in her studio, the result is a collection that deviates from typical expectations of rug design and, instead, allows the designs to spill beyond the four borders or "coloring lines" of the rugs. Free of spacial limitations, the Untitled Collection celebrates the idea of a boundless creativity that can only be experienced with a clear mind, void of any intention or practice, and a brush in hand.
The only current design created digitally was Undone, which was drawn on an iPad in one single intentional stroke:
Original drawing:
The collection began with an interest in the ongoing gestural, meditative "Asian Studies" series that Jaime has been painting for 5 years. "The series is very personal, inspired by my studies of Japanese language, art and culture, combined with a deep respect for Shodo and the masters of Japanese calligraphic art, and a love for all things abstract. I am inspired by the intention, meditation, and movement of the calligraphy, but also with the white space that remains. My own brush strokes, while not forming real letters or words, are an exploration of breath and a clear mind. I'm also fascinated by how one or two bold black strokes relate to the rest of the painting. The stroke is always the start of a piece and everything builds around it."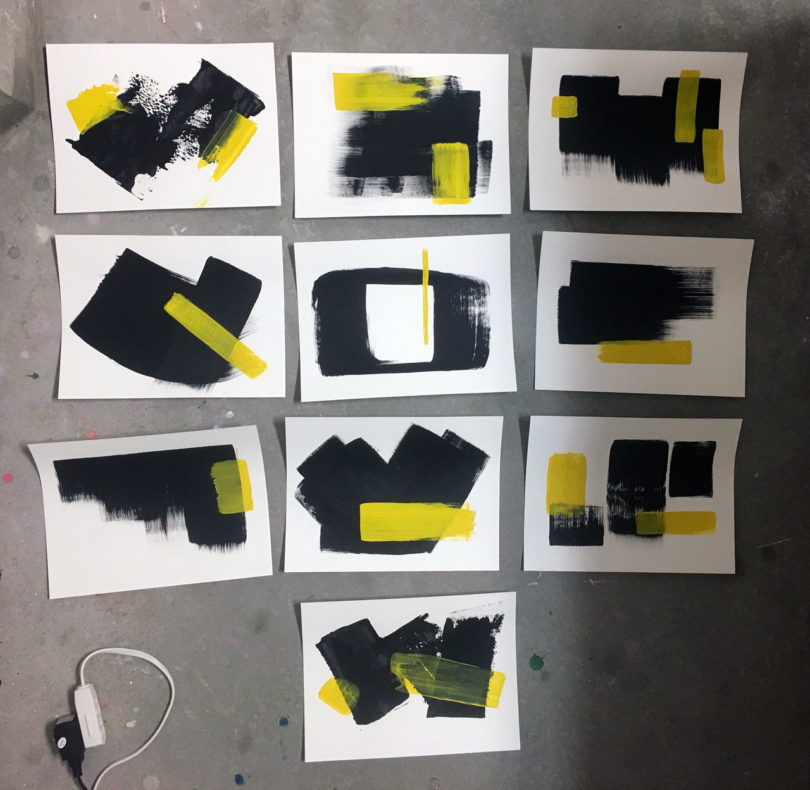 The process was a true collaboration in that Jaime and the Woven Concepts team created brand new compositions together, rather than taking existing artwork and copy/pasting the design onto rugs. Over the course of a year, the team worked together—Jaime painted a variety of gestural works, contrasting designs, and singular brush strokes to come up with the final pool of painterly designs to choose from.
The Untitled Collection features five different designs that can all be customized in color, pattern, shape, and/or materials. In addition, custom designs may also be available. To learn more about the collection, visit Woven Concepts.