For this month's Deconstruction, we're taking a look at Charleston, South Carolina's Urban Electric Co. and their Houe light fixture, which was designed by in-house Creative Director, Michael Amato, with a few new elements incorporated into the design, including a rotatable knuckle allowing the light to be directed 180 degrees. The minimalist shade is made from thick brass that's bent in-house to give it its unique profile. With its modern simplicity, the Houe light could work in just about any scenario and its LED light means you won't have to change the bulb for years! Below, the company gives us a peek at how the fixture is made.
Parts are prepared by our fabrication department and are delivered to the craftsmen.
Solid brass rod is being milled for use in the Houe's rotatable knuckle which allows the client to direct light 180 degrees.
Skilled craftsmen ensure that each part is cut or milled to our exact specifications.
Desiree is sanding and preparing parts for craft.
Craftsmen use a vice to make sure that each seam is tight and perfectly aligned.
Nate solders each seam with a steady hand for flawless construction.
The completed shade is sanded and prepped for finishing.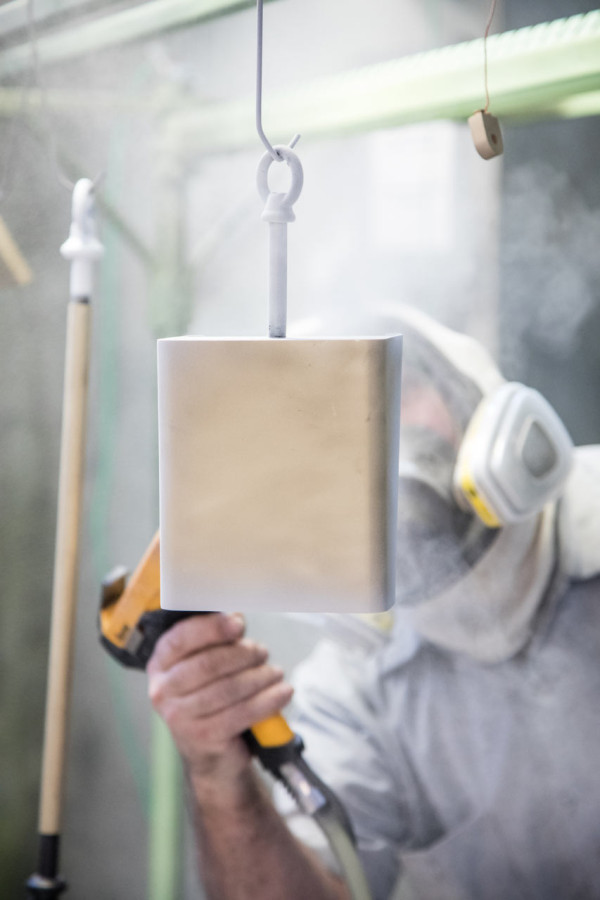 The completed fixture is powder coated – clients can choose from hundreds of powder coat and finish combinations.
Final installation, we featured the Houe in the newly opened cafe at our Charleston, SC factory.