Situated on a steep lot in Messines (Quebec, Canada), this lakefront house was built as a vacation home by Anik Péloquin Architecte. Hidden within the woods, the double-height home was designed for two nature lovers looking for a cost-effective retreat.
Wishing to keep the costs down and the impact on the environment to a minimum, they built the new house on the foundation of an old chalet. A massive deck that's partially covered runs along three sides of the new house helping to add to the square footage during the summer months.
The house fits in with its surrounding landscape by being covered in vertical wood slats of a bluish grey color.
Large windows bring the outdoors in and keep the interior filled with natural light.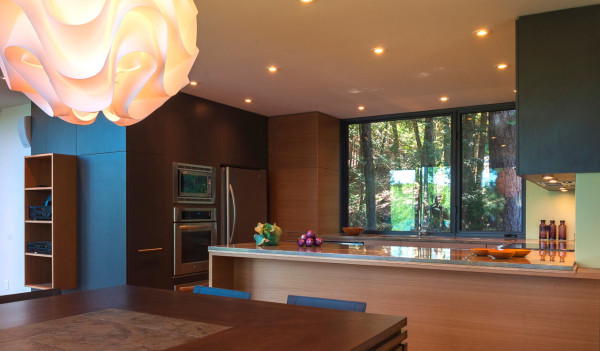 The interior is full of wood accents and a light green is used throughout, mimicking the nature that the windows frame.
The view is the focus in every room and it helps having the double-height windows in the living room.
The loft upstairs lets you stare at the lake and the trees while you attempt to do some work.
Photos by Alberto Biscaro, courtesy of v2com.net.

Design From Around The Web