As much as I love exploring new cities, sometimes I just need a good staycation doing exactly that: staying in. Save the outdoor excursions or art gallery crawls for another day and just let me enjoy my beautiful room and the modern hotel amenities. If I were at the 5-star Hotel Nira Montana in La Thuile, Italy, I'd probably do just that the entire duration of my stay. You'll see why in a second.
The boutique hotel is located in a valley at the foot of Mont Blanc so naturally the environment plays a big role in the design aesthetics. However, Milan architect Simone Del Portico designed the hotel to highlight more than just the wood textures and bright whites just outside the doors. Using a variety of materials like iron and weathering steel, he creates a design juxtaposition by giving a hotel that's surrounded by mountains a more complex, almost industrial look and feel.
Uneven wooden blanks and tree-patterned wallpapers give the contemporary interiors a rustic charm. Fiber-glass resin Aria chairs in anthracite shades by Nardi give you a place to sit while you take in the views.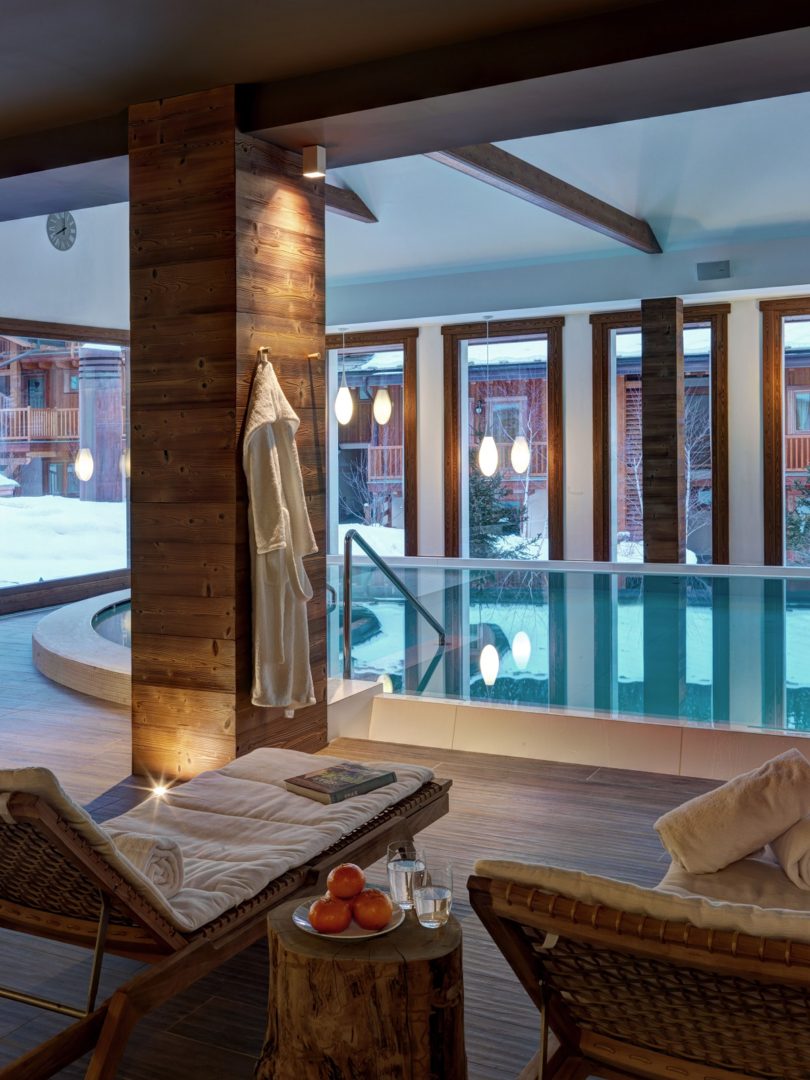 Modern amenities at the Hotel Nira Montana includes: a swimming pool, sauna, steam room, vitarium (a kind of wellness center), massage rooms, and dedicated relaxation areas.
The hotel is also quite sustainable. It uses a modern remote heating system that links to a heating plant in La Thuile that uses wood-based biomasses and cogeneration to supply clean heat and energy back at the hotel. Additionally, solar panels provide hot water, aerators fitted on all the taps limit water waste by mixing the water with air, and the building itself was designed to maximize energy containment through thermal insulation.
What: Hotel Nira Montana
Where: Frazione Arly, 87, 11016 La Thuile AO, Italy
How much? Rooms start at approximately $213 per night
Highlights: You won't be roughing it in this chalet in the mountains. This 5-star hotel will elevate the term "cozy comfort" to new heights (no pun intended).
Design draw: Don't expect to walk into an average wooden hotel where keeping warm means staying next to the fire all night long. This modern hotel uses sustainable methods to keep you comfortable and a well-balanced color and materials palette that lets you relax in luxury.
Book it: Visit the Hotel Nira Montana