Brazil has a thriving design scene (there's pages and pages of evidence here) and now for Los Angeles residents, you don't have to book a ticket down south to see it for yourself. Sao Paulo native Ana Kozak is determined to bring the best of Brazilian design to the West Coast at her newly opened store, Le Magazyn, in Venice, California.
Interior designers have been moving away from creating cookie-cutter replicas of catalogue pages these days, mixing vintage with mid-century, contemporary, handmade, local and high-end design. For those looking to add unique, one-of-a-kind pieces to their homes, this one stop shop carries a curated selection of original handcrafted home goods, fashion, table-top accessories, jewelry, furniture and art that are all handcrafted by global and Brazilian artisans. Today we chat with Ana about some of the best selling Brazilian designs in her shop and how the name Le Magazyn came about.
Why did you pick this city?
I chose Venice Beach because I identify with this neighborhood. It's a vibrant, eclectic and inclusive community where you can see and engage with people from all walks of life – anyone can be part of it. Also, as many major cities experience, this area on the Westside is going through a gentrification process which I relate to being from Sao Paulo and having a multicultural background. This diversity feels like home.
Regarding the building, it's an original construction from 1904 and it was love at first sight! I remodeled, however I was careful to preserve its original structure. It has high ceilings and an incredible natural light.
Where did you get the name for the store? 
The Portuguese word "magazine" means store in an old-fashioned way, it refers to the old shops that used to sell a little bit of everything. In French "Magazin" also means store so I played with the words and merged the two and added a playful "Y" to the mix. For me it is also an homage from the time I lived in Paris, which was an amazing personal experience.
Has it changed much since it opened? How?
Yes, the store has changed quite bit, even though we've been open for a little over a year. I feel that the store is settling into its own personality, which sounds funny but it's true!  The store is more mature from when I first opened doors. When we launched, I had a different idea of what I wanted this place to be and with time and valuable feedback from clients and friends, it has changed shape and grown. The essence of our business remains the same, we aim to showcase high-end Brazilian design and offer pieces that are unique and exclusive from what you'll find in other stores in LA.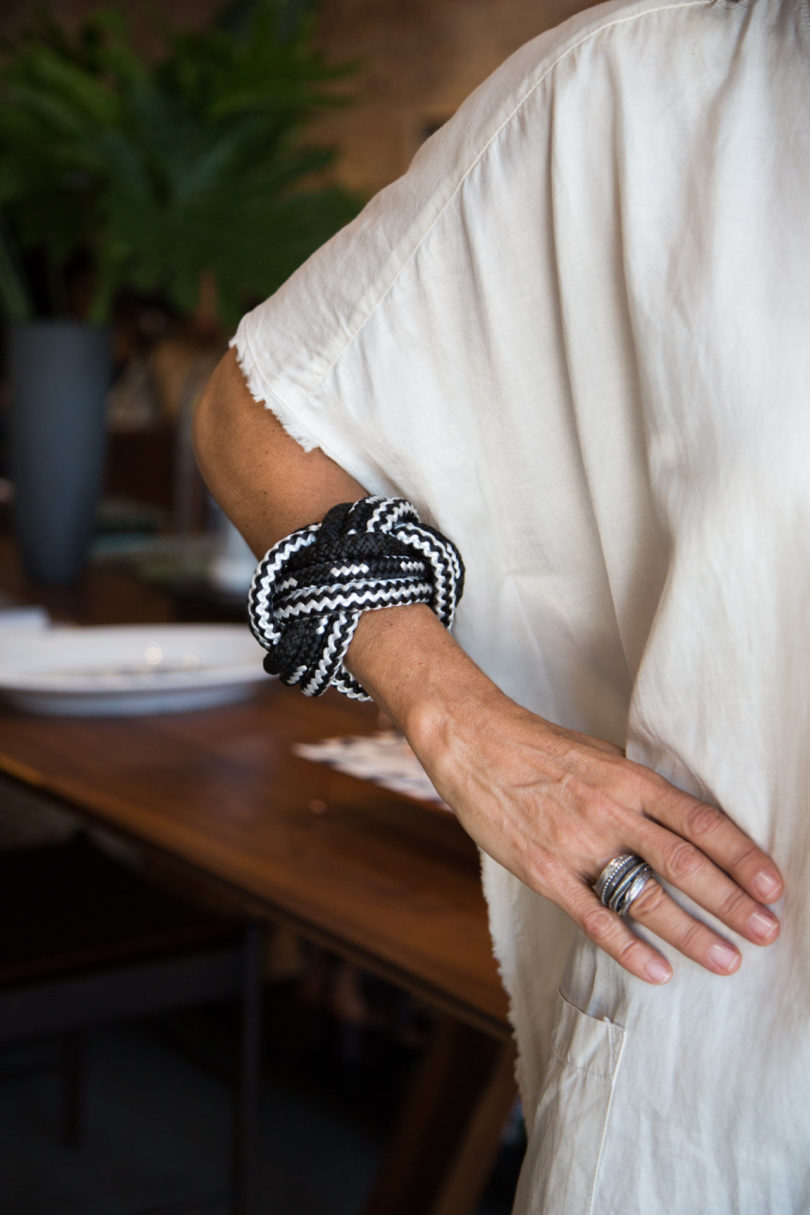 What's one of the challenges you have with the business? 
As a small business owner, there are so many challenges, that it can be hard to name one. I like to say that in retail, we have to kill a dragon every day! It's a Portuguese reference, but in all seriousness the retail business has gone through such a transformation and it's hard to navigate what the future looks like. People shop differently today than they did 20 years ago, there's been a tremendous shift in the shopping experience and there's a lot of competition when it comes to retail. Between technology, online shops, instant shops, corporate shops, mass production and competitive pricing it can be a lot to take on as a small business owner.
While it's extremely challenging to watch a boutique, restaurant or small business close its doors in place for a big chain or corporate brand to fill, it's more important we stay on top of these shifts in the marketplace. For Le Magazyn, we know that there are many people who appreciate and value a more exclusive shopping experience. The touch and feeling of a product are important to our audience as is the opportunity to be surrounded by handmade, one-of-a-kind or limited-production pieces.
In my opinion nothing replaces this personal interaction. When you can get to know the provenance of the pieces, the story behind each piece and how they are made, or even presented with the opportunity to meet the designer in-person; These are the experiences that we are constantly aiming to offer our customers.
So, while the challenges may seem huge, it's the enjoyment we receive from our customers who appreciate the in-store experience that is the most motivating and gratifying!
What other stores have you worked in before opening this one?
Believe it or not, this is my first experience in retail. Before opening Le Magazyn I did a lot of research to understand the market, but you never know until you're fully immersed.
What's your favorite item in the store right now?
As the curator of the store I love to discover new pieces. Right now, I'm super excited with my latest find, from Brazilian designer Claudia Savelli. Her maxi bijoux pieces have a lot of personality and are handcrafted with sailing ropes in her studio located in the Jardin Botanico neighborhood of Rio de Janeiro.
What is this season's theme/inspiration/story?
At Le Magazyn, we are less focused on trends and more focused on cultivating a unique product selection that is timeless and made to endure the seasons. Each of our products carries its own story and we like to be the storytellers for these brands here in the US.
Are you carrying any new products and/or undiscovered gems you're particularly excited about?
Almost everything we carry is still an undiscovered gem, and we can say that because much of what we offer are exclusively available in the US at Le Magazyn! We are proud to be a destination for the LA Market that specializes in Brazilian design. That said, here's some highlights from the store – it's hard to choose one piece.
Manus Studio with their Buddha Collection
Thais Costa jewelry – She's a molecular biologist turned jewelry artist that works with the effects produced by fire and different manual movement
Heloisa Galvão's liquid porcelain vases
What's been a consistent best seller?
Everyone loves Paula Ferber's sandals and handmade bags and the Flavia Del Pra tile tray are always a huge hit (we're the exclusive carrier of Flavia's trays and ceramic tiles in the US). We always have new patterns and styles, but these are probably our best sellers and what most people look for when the walk in the store.
Does the store have its own line?
Not yet, however we did just introduce a limited-edition of tile trays with the Brazilian designer and ceramicist Flavia Del Pra. The exclusive print for Le Magazyn is called the Balcony Print and not only are they offered in trays, she's also doing tile so our cash wrap features her print – it's beautiful!
Any special events/exhibits/pop ups/collaborations coming up?
Yes! We always have revolving exhibitions in the store and it's our goal to bring in the designers and artists so that our customers and clients have the opportunity to meet the creatives behind the products. Coming up this month – September 13th – Brazilian fine art photographer, Betina Samaia will showcase her "Amazonia" series. Betina's work mixes stunning night photos with light painting, she's extremely talented and she tends to photograph places that normally do not lend themselves to photographs, places that are full of mystery and abundant of possibilities. Her work has been influenced by the Impressionist painters: subtle lines and contours, strong colors, images that go beyond what we see – combining reality and imagination. The exhibition will be her unique vision of Amazonia using an infra-red lens.
Do you have anything from the store in your own home?
Yes, I do have many pieces! I have the liquid porcelain vases from Heloisa Galvão, a tile tray from Flavia del Pra, pieces from Manus studio, and I have an amazing photo from Claudio Edinger's "Venice Beach" exhibition, that we hosted last year. Ah, I almost forgot, I also have a JZ tea trolley by the great Jorge Zalzsupin.
What's next for you and your store? 
My passion is for curating and using my knack for design to produce interesting and unexpected results. My challenge is to stay away from the obvious and to transform Le Magazyn into a must-visit destination for high-end Brazilian design as well as produce engaging content and divulge the works of these amazing artists and designers.
Looking ahead, we want to focus on collaborations and bringing new and emerging designers and artists to Le Magazyn.
What's one lesson you've learned since opening your store?
My first and most valuable lesson was involving inventory management. In the beginning, I bought too many of the same pieces, but thank god at the end of the day we sold through everything. The second most important lesson that I live by every day is that you must innovate constantly.
If you could give one piece of advice to someone who wants to follow a similar path to yours, what would it be?
I don't want to sound cliché, but follow your gut and don't be afraid to fail. Falling and getting back up is part of life and has an important role in any learning process. We all celebrate the winners but I'm sure they all passed through a lot of difficulties to finally succeed. So, for that reason, my only advice is persistence, persistence, persistence! Do not give up easily!
Every path is different and unfortunately there isn't a recipe for success. I wish I had it to share and for myself!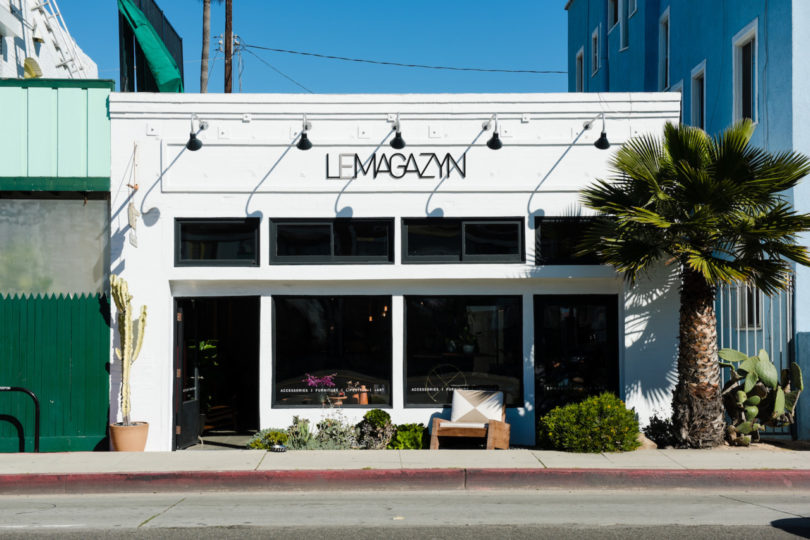 Visit Le Magazyn at 904 Pacific Ave, Venice, CA 90291.