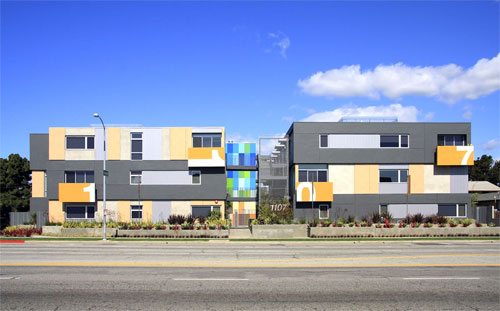 The Venice Superior Apartments by Kanner Architects are located on Venice Boulevard in California. The vibrant colors and exciting design of these apartments is such a perfect reflection of the Venice vibe!
The complex is 36,000 square feet, consisting of 38 apartments and three stories. The balconies have great south-facing sunlight and a nice view of the street to interact with the festivities and foot traffic below. Mostly one-bedrooms, the apartments are loft-like inside with linear kitchens, high ceilings and clerestory windows.
Exterior materials such as corrugated metal, smooth plaster and dark Trespa underscore the clean lines of the architectural design. Tall green screens provide a vertical landscape element to the urban setting. To conserve water usage, grounds will be xeriscaped around hardscaping also designed by Kanner Architects.
Photos by Nicolas O.S. Marques.

Design From Around The Web