Very Good and Proper Turns Hemp Fiber + Recycled Plastic Into Outdoor Chairs
Very Good and Proper Turns Hemp Fiber + Recycled Plastic Into Outdoor Chairs
1/12 Photos
2/12 Photos
3/12 Photos
4/12 Photos
5/12 Photos
6/12 Photos
7/12 Photos
8/12 Photos
9/12 Photos
10/12 Photos
11/12 Photos
12/12 Photos
Very Good and Proper (VG&P) was founded in 2008 by product and furniture designer (now director, majority owner and CEO) Ed Carpenter, fellow RCA-graduate and London-based German designer (now design director) André Klauser and restauranteur Patrick Clayton Malone – initially to produce furniture for Malone's new restaurant group Canteen, and then for a wider market. Today, their signature pieces still include the Canteen Table, the Hook & Knob, and the Utility Chair, all launched at the London Design Festival in 2009. Collaborating with leading architects, interior designers and furniture dealers around the world, VG&P designs and manufactures carefully considered, practical and beautiful products using quality materials and craftsmanship. Their most recent project is the result of a collaboration with Paris-based design studio AC/AL and is an outdoor chair made using a new bio-composite technology that combines hemp fiber with recycled European plastic. We spoke with Carpenter to dig into the detail.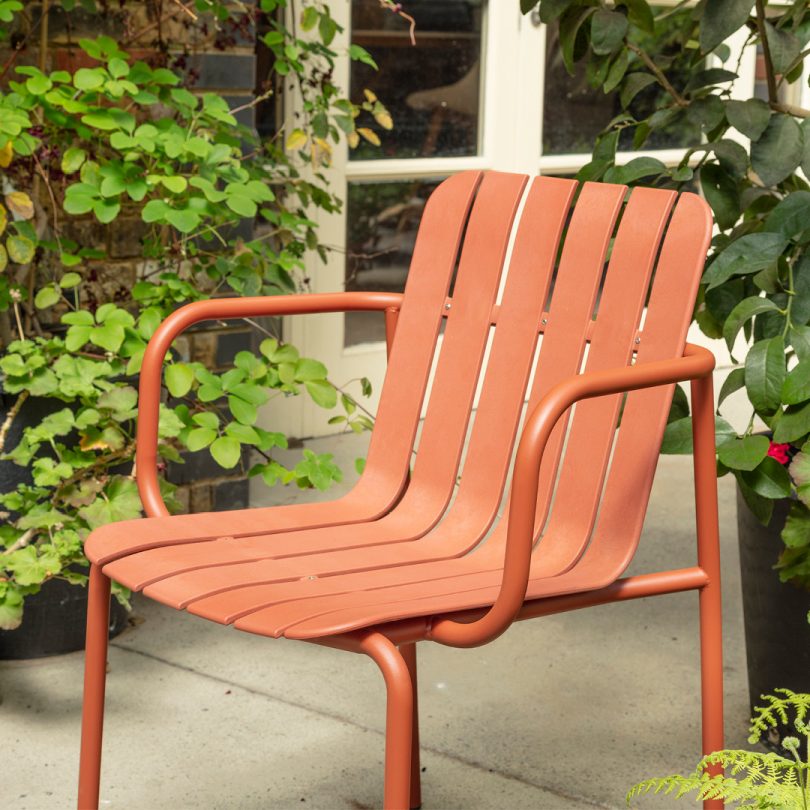 Tell me a little bit about your childhood, education and background in terms of how you first became interested in creativity, design and sustainability.
I was creative from a very early age and spent most of my time drawing and creating cartoons. However, the first time I started to 'design' was by making my own skateboards when I was about 12 or 13 years old. I read an article in a magazine that gave a 'step by step' guide on how to make a plywood skateboard deck from scratch. Looking back, it was quite complicated and involved all of the creative elements of what I still do today. I just didn't know what 'design' was at the time so didn't really think much about what I was doing – 12 years later I found myself graduating with an MA in Design Products from the RCA in London and starting my career in design.
How would you describe your project/product?
The Latte Chair is our first collaboration with Paris-based design studio AC/AL (Amandine Chhor and Aissa Logerot). We were approached by AC/AL with a design for an outdoor chair that we really liked. It started life as a simple wooden chair with a metal frame. The design was really charming, however, we felt we should be more ambitious with our first foray into outdoor furniture so, over the next two years of collaboration, the Latte Chair evolved into what you see today – an outdoor chair made using a new bio-composite technology that combines hemp fiber with recycled European plastic to create a high performance, sustainable and re-usable material.
What inspired this project/product?
'Latte' is the French word for 'slat' and in AC/AL's original wooden design the 'slats' were exactly that. We really loved the familiar linear aesthetic of the slats and, as well as giving the chair its name and character, they're extremely practical for outdoor use.
What waste (and other) materials are you using, how did you select those particular materials and how do you source them?
When we started exploring the notion of using plastic for the chair the first thing we said to ourselves was that we would only do this if we felt 100% confident in the sustainability credentials of any material and process. We did lots of research into plant-based plastics and bio-composites and eventually settled on working with a Swedish company called Trifilon that is dedicated to making green plastics made from fully or partially bio-based materials. The material we ended up specifying is made from 100% recycled European plastic combined with European harvested hemp fiber which gives the material excellent structural integrity and reduces the CO2 footprint by 85% versus a typical plastic chair.
When did you first become interested in using waste as raw material and what motivated this decision?
As designers and manufacturers, we are always interested in new materials and processes. We like to question conventions and always try to understand the context and bigger picture of the materials and processes we use. This was exactly what we did when we decided to produce our first plastic injection-molded chair. It would have been extremely straightforward to go with established conventions and use virgin plastic with a glass fiber filler. This just didn't feel right when we all know what a problem we have with waste plastic and although there's an argument that the problem lies primarily with 'single use' plastics, we still felt we should not be adding to this problem, however small.
What processes do the materials have to undergo to become the finished product?
High quality recycled European plastic is combined with hemp fiber to create a bio-composite that is then injection-molded into the form of the chair.
What happens to your products at the end of their life – can they go back into the circular economy?
Yes, that's another thing we set out to achieve right from the beginning. We wanted to create a 'closed loop' manufacturing network so we found a partner here in the UK that we could work with closely in that capacity. The recycled bio-composite we use can be re-ground and re-used without any loss of quality. Therefore, any waste material or end of life returns can be re-purposed and transformed into new products.
How did you feel the first time you saw the transformation from waste material to product/prototype?
The first time we saw the prototype chair in the final material, we were so happy. Firstly, it looked and felt fantastic! The fibers of the hemp showed through in such a way it elevated the material beyond typical plastic. Secondly, we were blown away by how it performed structurally and practically. The hemp fibers made a huge difference to the samples we had seen before and it really gave us the confidence that we had chosen the right material.
How have people reacted to this project?
The feedback has been extremely positive! People have responded really well to the design, and then when you explain the sustainability, materials and process behind the design, people are really keen to find out more. It's still early days, but fingers crossed all that positivity translates into a successful product.
How do you feel opinions towards waste as a raw material are changing?
Design professionals are much more educated around the issues associated with waste plastics and raw materials these days – we've found this and broader sustainability concerns are often one of the first things we're asked about when we're looking at a new project.
What do you think the future holds for waste as a raw material?
Hopefully, more companies and designers will start experimenting with and using waste material as an alternative to virgin raw materials. There are lots of really interesting materials out there you just need to find and help support them – with wider adoption and investment they will become more practical and affordable. Once this happens, I'm confident it will start to become the norm rather than the exception and people will really start to appreciate the unique qualities and charm these types of materials can offer.