Located in a quiet village in Santorini, Villa Anemolia got a major renovation to create a peaceful place for guests to stay while on vacation. MPLUSM Architects took on the project to give the preexisting house a level of architectural simplicity. The cavernous rooms, typical of traditional structures in Santorini, kept their organic shapes but were updated to include skylights and embedded recessed lights within the walls. The result is a cozy, light-filled villa away from the crowded central square of the village.
The tall, vaulted ceilings are typical for these traditional structures, when long wooden beams were not available to bridge the span of rooms. The curved walls are typically embedded in the volcanic soil, making light scarce as it only came from the courtyard. Luckily, MPLUSM incorporated new skylights and pockets of light that come from the recessed lights in the walls.
They did away with regular, free-standing furniture and instead chose built-in beds and sofas. The sofas, which double as beds, float on wooden platforms on either side of the common living area.
Other beds and sofas sit on cement platforms that continuously flow up from the floor.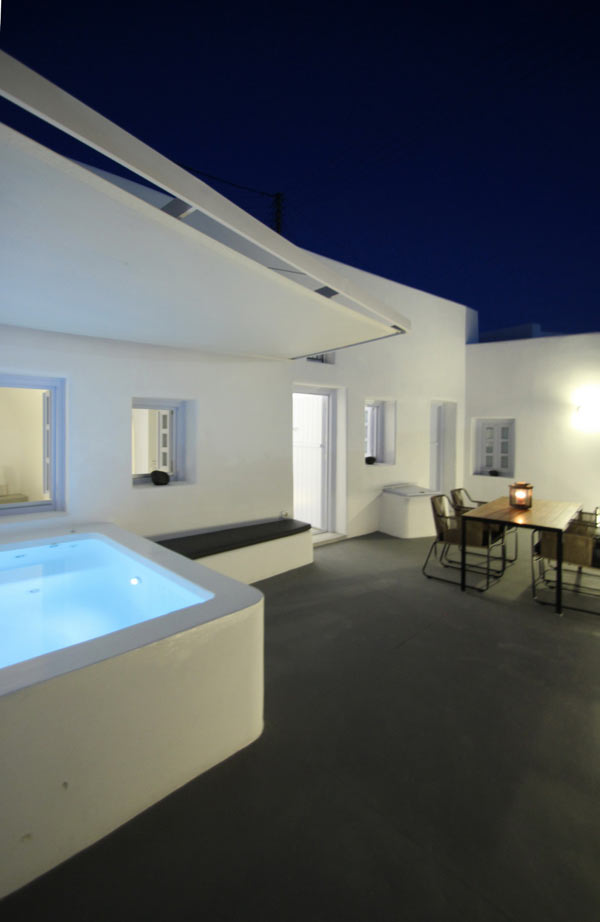 The courtyard is walled-in for privacy.
Photos courtesy of MPLUSM, except where noted.