The U-shaped Villa F, designed by DÉR Architects, is located in a lush, green neighborhood of Fótliget, a section of Budapest, Hungary. The woodland location was carefully protected during the design and build process, saving approximately 40 trees. The one-and-a-half story house was thoughtfully oriented in order to enjoy the forest-like land it sits on.
Built around a patio, the interior rooms, including the kitchen, living room, and indoor swimming pool, open up to enjoy the warmer summertime months.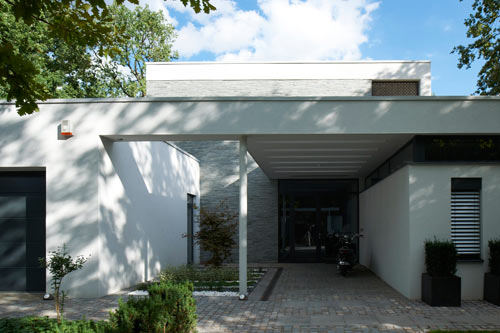 The exterior is covered in white plaster and grey quartzite, making the structure stand out in the green surroundings. The doors and windows are balanced out by being a dark metal finish.
The ground floor also houses two separate bedroom suites, the mechanical room, storage room, and garage. The floor above contains two children's rooms and a guest room.
An indoor/outdoor pool gives you the best of both worlds for winter or summer swims.
I love the etched glass on the inner doors for extra privacy.
The corner of the kitchen opens up to the outdoors and the shared patio.
That wrought iron grate is a great way to create separation between the staircase and the dining room. It's also the same pattern as what's on the glass.
The wrought iron reappears in other places throughout the house.
Photos by Gábor Máté.