Located in Ibiza, this villa by Atelier d'Architecture Bruno Erpicum & Partners boasts some amazing views and the design of the home makes no mistake in optimizing those views.
With its walls of glass, this home is practically a glass box overlooking Ibiza harbor. Completed in the summer of 2008, the house is 500m2 over two levels on a plot of land 1200m2.
With six bedrooms and six bathrooms, each bedroom is an en suite. Two of the bedrooms are part of guest apartments. The master bedroom has its own dressing room as well. On the top floor is the living space, where the ceiling is supported by special beams so that the view is uninterrupted by structural columns. Outside is an oversized terrace and a beautiful modern swimming pool. I don't know about you, but I could get used to living here.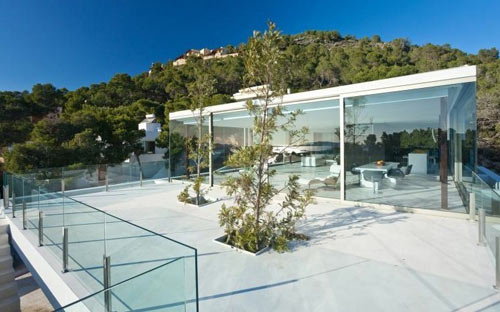 This home is for sale through LucasFox for €3,250,000.