OOA | Office O architects designed Villa CD near the sea in Oostduinkerke, Belgium. Surrounded by dunes and bungalow houses from the early 60s, the design had to follow certain restrictions in accordance with the other houses and the environment. The result is a bungalow-inspired house that appears to just be one story at first glance.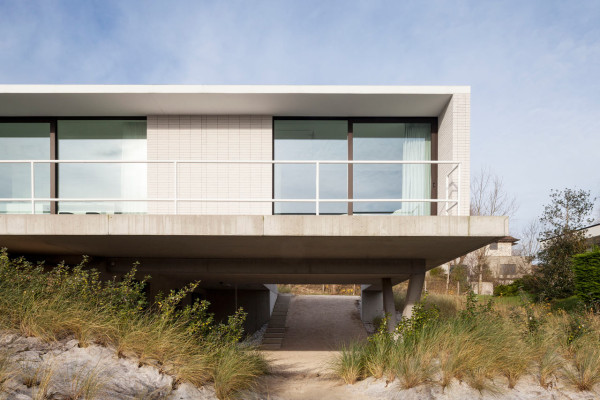 The residence features a horizontal design that cantilevers over the driveway creating covered parking. The sloped site gives the appearance of the house floating over the terrain while allowing it to mostly remain untouched.
Along with the building regulations, the homeowners requested to have the main living spaces be at street level without anyone being able to look inside. They also wanted it welcoming for visitors, but with privacy a main focus.
A concrete wall adds privacy to the front while having various sized cutouts that break it up and allow light to pass through.
An outdoor staircase leads to two studios and the carport on the lower level.
Polished concrete floors, white walls and ceilings, and dark furnishings create a minimalist interior.
Photos by Tim Van de Velde.