It used to be considered a travel annoyance to find out the hotel you want to stay at is fully booked but now, because of the Vipp Hotel, those two words are going to be considered a travel delight. Founded in 1939, Vipp is known for its large portfolio of kitchen and bathroom accessories, fixtures, and furniture. The company is now expanding into hotels to create a very different type of hospitality experience. Instead of designing one building that offers many rooms, Vipp is designing many buildings that offer just one room. As soon as you check in, that Vipp location is completely booked. While each location is unique, they all have a few things in common: minimalist aesthetics, maximalist materials and an appreciation for good design and architecture.
Kasper Egelund, CEO of Vipp, shares the company's mission statement:
Our destinations share the same goal. We want to invite people to experience firsthand our philosophy of good design in a place out of the ordinary.
There are currently two locations available for reservations – one in Immeln, Sweden and one in Copenhagen, Denmark – with more destinations on the way.
Room No 1, the Vipp Shelter, is a nature box that's surrounded by Swedish wilderness and designed by Vipp Creative Director Morten Bo Jensen. We featured it a couple of years ago and now you can rent it! Instead of a widescreen TV, you'll get front row seats to a panoramic view of nature. Instead of staring at the ceiling wondering when your noisy upstairs neighbors are going to sleep, you can stare through the glass ceiling and fall asleep under the stars instead. You should be warned, there's not even wifi available here. At the VIPP Shelter, it's just you and the changing seasons.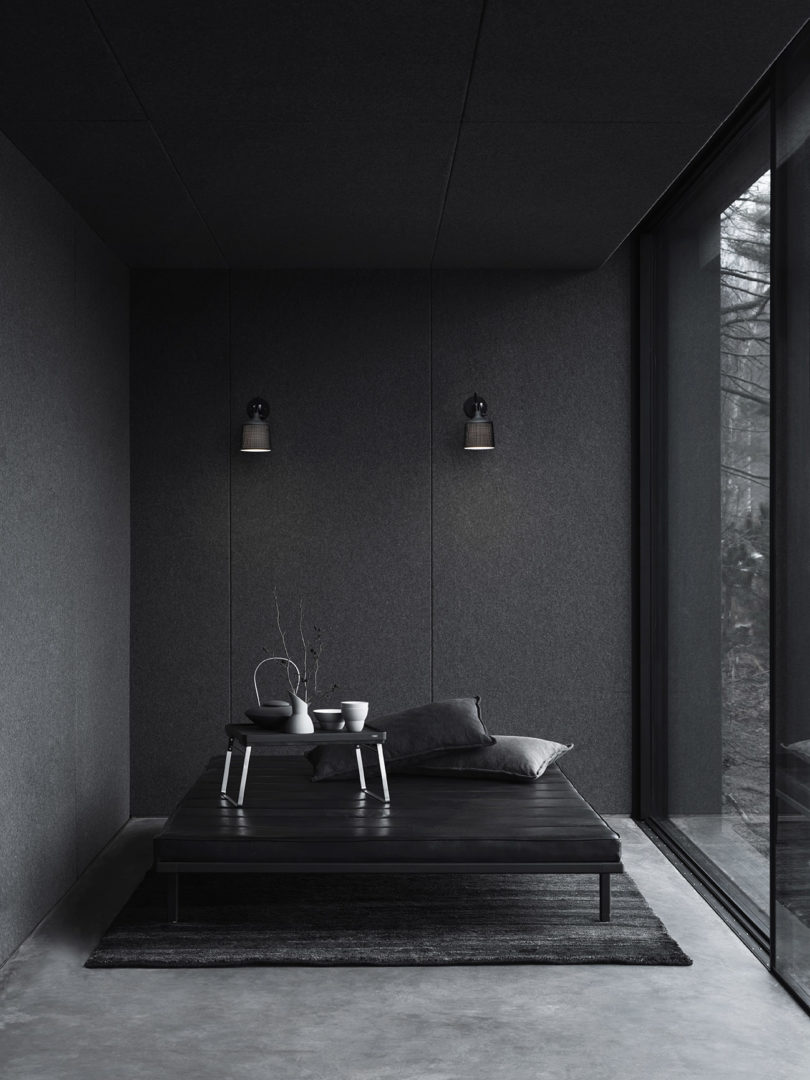 What: Room No 1, the Vipp Shelter
Where: Jätten Kulls Väg 8, 28973 Immeln, Sweden
How much? The room starts at approximately $1175 per night.
Highlights: This is a place that makes you want to immediately unplug and unwind while being surrounded by nature.
Design draw: Everything inside and outside the monochromatic Vipp Shelter was designed by Vipp: the kitchen, the bath module, the lamps, even the ladder.
Book it: Visit the Vipp Hotel website
Room No 2, the Vipp Loft, is situated right on top of Vipp's headquarters in Copenhagen. Designed by architect David Thulstrup, the airy loft feels more like a home than a hotel. The factory building's original oak timber ceiling rafters soar high above the centerpiece of the loft, the free-standing Vipp kitchen. All around the loft, you'll find industrial-inspired Vipp products, vintage furniture, pieces from a diverse art collection, and a library full of design and architecture books.
What: Room No 2, the Vipp Loft
Where: Snorresgade 22, 2300 Copenhagen, Denmark
How much? The loft starts at approximately $1761 per night.
Highlights: Not every hotel room is situated right above the company's headquarters. The Vipp Loft is an industrial meets modern getaway atop an old printing factory from 1910.
Design draw: If the Danish Design Museum wasn't enough (we're assuming you made time for it while in Copenhagen), the Vipp Loft is basically a mini museum of contemporary art and design, with books and objects to satisfy any design-lover.
Book it: Visit the Vipp Hotel website