Why did you pick this neighborhood/storefront?
Ten years ago, on a trip shortly to Berlin before moving here, we strolled along the Karl-Marx-Allee and decided this would be the perfect place for our shop. Back then, we were impressed by the architecture and intrigued by the almost tangible history the street exudes. We loved the rich materials like marble and ceramic used in the facades, and we loved the shops for the big windows and the beautiful metal window frames. When the opportunity arose by the end of last year and we found this beautiful space, we felt we had to take this chance – it just felt right.
We feel it's the perfect setting for our shop because for various reasons:
– the historical aspect: we mainly sell vintage items that have a history
– the interior and design aspect: in recent years, more and more shops with a focus on interior and design-related products have opened up
We love exactly this contrast of the stark and austere with our concept of Tropical Living.
Where did you get the name for the store?
"Coroto" comes from the Venezuelian Spanish and means "thing" for household objects.
On the origin of the word, there is a nice little story: a former president of Venezuela (Guzman Blanco) acquired a painting by Jean-Baptiste-Camille Corot on one of his trips to Paris. Arriving home, he was very concerned about the integrity of the painting and told the servants at every opportunity to be careful with the Corot. They began to make a bit of fun about this and eventually the expression got a different meaning, "Coroto" was slowly pretext for every possible object in a household. There is also a nice little movie in Spanish here.
What's one of the challenges you have with the business?
As new business owners, the whole process of shaping our idea and bringing it to live been a very interesting journey and a big learning experience. Our most important challenge now is to establish ourselves on the market, and as we are not located in a classical busy shopping district, we have to find ways to attract customers to our store.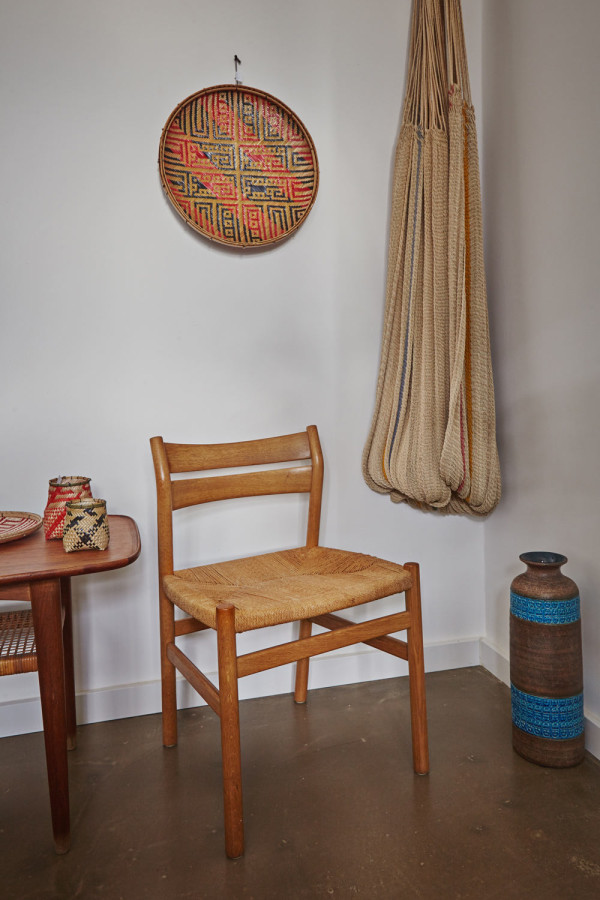 What other stores have you worked in before opening this one?
My partner David is an interior designer who has already founded several retail stores in Venezuela. My main job is managing a successful photographer's agency.
What's your favorite item in the store right now?
A beautiful ML 140 sofa designed by Illum Wikkelsoe.
Tell me more about "tropical living".
Our inspiration and theme for the store's collection is "Tropical Living". On my various visits before we moved together I was absolutely fascinated by the light, the colors, the abundance of nature and the amazing architectural landmarks built in the boom times in the '50s and '60s like the university complex by Carlos Raul Villanueva or Gio Ponti's Villa Planchart.
Our idea for the shop and its concept were "born" from the observation of the way mid-century furniture and decorative objects of European origin have been integrated in modern Latin American households, and how the owners have mixed these items with typical images of their own cultures.
Tropical Living for us is characterized by a playful mix of bold colors and patterns in order to create a joyful and heartfelt atmosphere. In our shop we wanted to create an atmosphere that would reflect this spirit.
Are you carrying any new products and/or undiscovered gems you're particularly excited about?
It's a pair of Wim Rietveld Oase chairs from 1967 which we have given a "tropical" rework—re-lacquering and reupholstering them.
What's been a consistent best seller?
We only stock individual pieces, so don't really have a best seller.
Does the store have its own line?
Not yet, but this is one of the things we are planning for the future.
What's next for you and your store?
We will be reworking various items to give them a "tropical" makeover.
Interior and exterior photos by Christoph Sagel.