We've headed across the pond and down to Trento, Italy this month to talk to Roberta Pedrotti of Details Design Store, a fairly new store featuring designers from all over the world including Muuto, Ferm Living, and HAY. What can we say: we're suckers for a store covered in OSB, named for Charles Eames, and full of Nordic design.
Why did you pick this city/neighborhood/storefront?
I wanted to find a space in the historic city center of Trento; via Suffragio is the only porticoed street in town and the energy of the street is contagious and stimulating. Young entrepreneurs, architects, cultural clubs, cafés are located in the neighborhood.
I still remember the day I saw the store for the first time: love at first sight! That had to be mine! It's a great location, very fascinating; historically it was a restaurant, as written in the portico outside the shop. It has antique wooden beams on the ceiling and a huge skylight that naturally illuminates the area at the bottom of the shop. Original paving is uncommon and precious sort of stone mosaic, which established a dialogue with OSB texture of furnishing designed by young architect Bruno Detassis.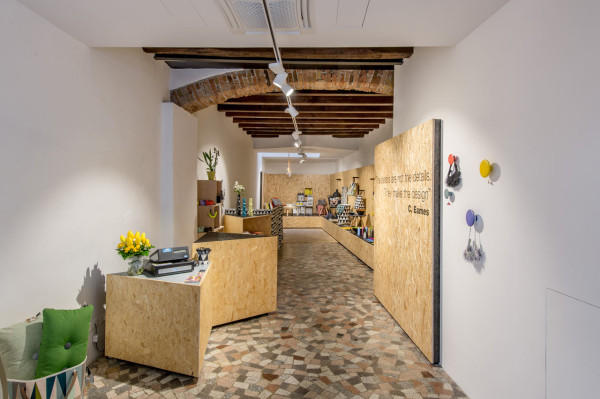 Where did you get the name for the store?
I was reading an enlightening book about the Eameses when I stopped momentarily on the well-known quote by Charles Eames "The details are not the details. They make the design" …so here's the name: Details! It's short, plain, substantial and I love the relevance of that quote: it reflects perfectly my philosophy. In fact, it stands out on the OSB boiserie at the entrance of the store.
The design concept as same as the logo are inspired by triangular motif by Charles and Ray Eames.
Has it changed much since it opened? How?
I launched the store on April 5th 2014, so it hasn't changed at all. Display units are triangle-shaped and they are made of OSB with colored tops. The aim was to have a flexible and easy-to-transform space, that's why the units are meant to be easily moved.
But I know for sure that I want the shop to update in the future. I'll never stop searching for new, exciting products, designers, and brands.
What's one of the challenges you have with the business?
Keeping ahead of people's demand with my selection of products. I love discovering new products, trends, materials, technologies, talents. Trento is a small city and one of my purpose is to convey good design to people.
What other stores have you worked in before opening this one?
I worked in a contemporary art gallery for four years. It was an important experience that made me grow professionally and personally.
What's your favorite item in the store right now?
All of them! All joking aside, at the moment my favorite item is Visu lounge chair by Mika Tolvanen. I love its simple shape, its elegant curves and its comfort. I like timeless products and Visu is absolutely one of them! I completely agree with Mika Tolvanen when he says "I think every detail is exactly as it is supposed to be." I chose the red one for Muuto corner in my store; it's ironic, amusing, intense.
What is this season's theme/inspiration/story?
There's no seasonal theme. Instead, I frequently promote new collections, new products and I give to all of them a special moment and a unique exhibition. For example, on June 13th, I presented the entire collection by .bijouets and some of the new lamps by .exnovo. The store has been a triumph of 3D printed jewels and lamps.
In July I'll exhibit concrete vases by Stefano Pugliese, so I'll try to harmonize the entire outfitting of the store with their natural and earthy colors.
Are you carrying any new products and/or undiscovered gems you're particularly excited about?
As mentioned above, I'm very proud and excited to house in my store 3D-printed jewelry and lamps by .bijouets and .exnovo, brands of HSL. Born in Trento in 2010, thanks to the visionary intuition of Ignazio Pomini and Fabio Ciciani, HSL is the first company in Italy and among the first in Europe in using Additive Manufacturing technologies. A distinguishing feature of the brand is the use of leading edge technologies to enhance a craftsman's skills and knowledge. Professional 3D printing technology is put at the disposal of the craftsman, to bring to life creations embodying the concept of unrestricted creativity, that would be impossible to make using traditional production processes, but that uphold the criteria of formal beauty of Italian culture.
What's been a consistent best seller?
People simply love e27 lamp by Muuto. Its simplicity and plainness fits to every style of interior design. Swedish designer Mattias Ståhlbom has distilled the idea of a pendant to its essence: just socket, bulb and cord.
Many people moving in a new house install a simple light bulb, awaiting to replace it with a real lamp. Thanks to e27 socket lamp, that's not necessary anymore, because with it the light bulb becomes acceptable, finished, without losing its primitive charm. The considerable dimension of the bulb and the vivid colors of socket and cord make the lamp lose its provisionally character and prove beauty of simplicity.
Does the store have its own line?
This is the next challenge. I would like to launch my own line on Christmas 2014. I'm building a partners' network. I'm involving architects, designers, creative talents to launch my own line of furnishing accessories.
Any special events/exhibits/pop ups/collabs coming up?
I'll keep planning periodically vernissage and meetings for professionals and connoisseur of the design world. But I'll also promote collections, designers, books, or projects with particular attention to young designers.
Cooperating with Gabriele Benedetti, my trusted web marketer, I decided for the future to launch a contest of visual merchandising to set up the window of the store. Near Trento, there is a fashion school and the students of visual merchandising class could be involved in this contest. The winner will set up the window.
Do you have anything from the store in your own home?
I have a lot of jewelry from my store: at least one for each designer or firm.
Many furniture and accessories in my house come from my store, because I love the products I sell. I also want to test the products before selling them. The quality it's really important to me.
The last arrival is Afillia table lamp designed by Alessandro Zambelli for .exnovo. I fell in love the first time I saw it on a design magazine! Rarified materials, air and light as true building components of the object. It creates a great atmosphere in my living room. I placed it on a wooden stump next to Mags sofa by HAY and it fits perfectly with the Nordic style of the room.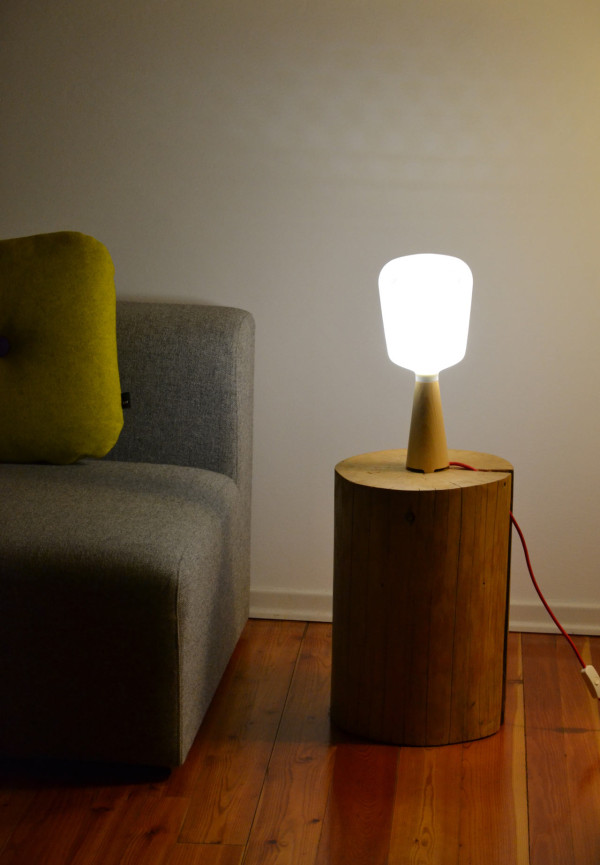 Visit Details Design Store at via Suffragio 74, 38122 Trento, Italy or online here.

Design From Around The Web