This month we are back in the States visiting Morlen Sinoway Atelier in Chicago, Illinois, a showroom that brings together furniture and decor from the present and past as well as unique artisan crafted jewelry, objects de arte, ceramics, and glass. If you attend NeoCon, you may know that they host the Guerilla Truck Show, an event in which creatives showcase their work in a temporary gallery space within the back of a truck – such a fun event!
We were instantly excited about the opportunity to virtually visit and talk to Morlen Sinoway about his self-titled shop.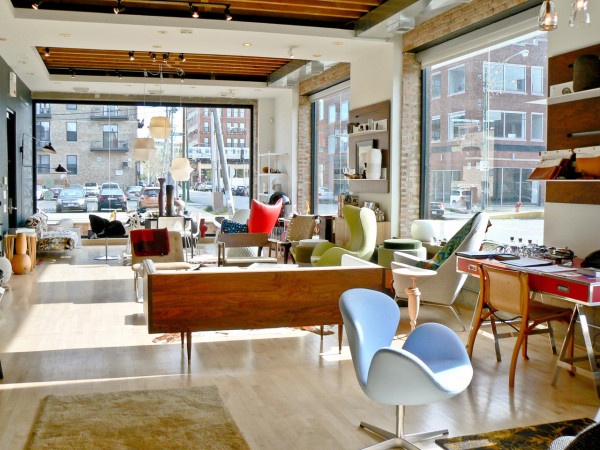 Why did you pick this city/neighborhood/storefront?
The choice was fairly easy for me. Previously, I was in the Bucktown neighborhood of Chicago. I was looking for someplace that was vibrant, urban and fresh. I have always been a destination, with a design specific focus and clientele. Also, the energy of the street was contagious, and stimulating.
Where did you get the name for the store?
That also is an easy answer, I was born with it, which in itself creates a curiosity, as to what we are.
Has it changed much since it opened? How?
The concept of the Atelier is the same, fine original limited production, custom furniture, personal and home accessories. We are an artfully curated store/showroom.
What's one of the challenges you have with the business?
Keeping front and center, ahead of the curve, with our products and accessories. Our clients expect that from us. We are trend setters not followers.
What's your favorite item in the store right now?
We are loving the vintage posters printed on silk scarves from Vox Populi.
What is this season's theme/inspiration/story?
We do not get into themes except for the Christmas holiday season. We are themeless, we rejuvenate.
Are you carrying any new products and/or undiscovered gems you're particularly excited about?
Always, that is our mission, we are curious, we are the Marco Pollo of design. Uashama canvas aprons and paper totes, Crucial Details Cooling Sleeve.
What's been a consistent bestseller?
Crucial Details infuser, Zuzunaga throws, Blue Leaves tabletop accessories, our one of a kind jewelry by, Nancy Deal, and Chikahisa Studio.
Does the store have its own line?
Yes, we are designers, either of furniture, lighting, ceramics, and other product accessories, we feature products that we have designed and encourage client specific projects.
Any special events/exhibits/pop ups/collabs coming up?
Morlen Sinoway Atelier is the originator of the Guerrilla Truck Show. The GTS is going to be ten years old this June 10th. The Guerrilla truck show is the largest independent design event in Chicago if not between New York to the West Coast.
Do you have anything from the store in your own home?
Sure, why wouldn't I, they are special and define a creative personal environment. That's the difference between design and decoration…
I have a colorful, red and black Zuzunaga blanket, beautiful wood turnings by Ernst Gamperl, a collection of Hering Berlin porcelain, and a mixture of Art pieces that we've represented through our gallery over the years.
Visit Morlen Sinoway Atelier at 1052 W. Fulton Market Chicago, Illinois 60607 or at morlensinoway.com.

Design From Around The Web