We stopped by the Shinola TriBeCa Flagship store to chat with Creative Director Daniel Caudill about their commitment to American design and manufacturing, quality leather goods, watches, and awesome bikes.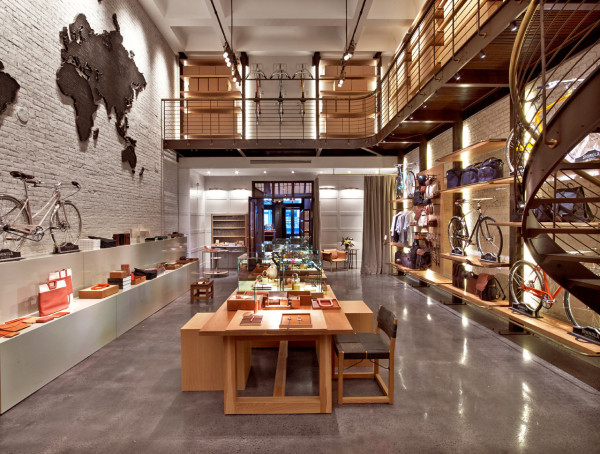 Why did you pick this retail location?
The Shinola Tribeca flagship store is our second retail location and the second opportunity for the public to experience our full brand story-from expressing Shinola's core values and why we make the products we do, to why we are passionate about making them in America. The store design stays true to the neighborhood and honors the building we're in while the interior takes inspiration from artist Donald Judd's library in Marfa, TX. It is the intersection of clean minimalism and 1930s industrialism.
Where did you the name for the store come from?
Shinola was once a small-scale shoeshine manufacturer by the New York-based Shinola-Bixby Corporation in 1907. We were all in a meeting one day and someone said, "You don´t know sh*t from Shinola." and everyone kind of looked around the room and knew we had our name.
What's your favorite item in the store right now?
The Runwell bicycle is one of our most classic and iconic pieces from season to season. The Runwell stands for our dedication to detail and quality manufacturing process. It's minimalistic, yet modern in design and is built to last a lifetime.
What is this season's theme/inspiration/story?
Our inventory is very dynamic; we are constantly updating our signature collections and changing store themes each month. Our journals, pencils, and small leather good are all practical and functional products for the back to school season.
Are you carrying any new products and/or undiscovered gems you're particularly excited about?
Color is very important to Shinola, and our new paper-cover journals come in fresh colors. We have also expanded our watch collection and evolved our offering, from the dials to the straps, it's a bit brighter and lighter.
What's been a consistent best seller?
The Runwell is our signature offering and bestseller. Hand-assembled and made from the finest components, the Runwell delivers a classic blend of urban style and practicality. This fall we will be launching The Runwell in a new 36 mm, which is seriously beautiful.
Tell me more about the store's line of products.
We are a multi-category brand. For Shinola, it's all about quality. It was as simple as knowing some of the worlds talented craftsmen and design experts in each of these categories. We knew we could make quality watches, bikes, and fine leather goods using resources that were predominately from the US. It's all based on manufacturing. I think that there's a lot of things that we want to do in a lot of ways, and there's a lot of exciting things that we're working on that are predicated on manufacturing.
This fall, we're launching pet accessories in our own stores. It's all about having something that's great quality for the dog that won't break in three months.
Do you have anything from the store in your own home?
I buy the candles and have them in my house. The very first thing we developed in this company is our candle. When you walk into an environment, you want to smell it and see it.
Photos courtesy of Shinola.
Visit Sinola in TriBeCa at 177 Franklin St, New York, NY 10013. Find a Shinola store near you or shop online.

Design From Around The Web