At an expansive 11,000 square feet of showroom the Steelcase WorkLife Los Angeles showcase floating above Downtown Los Angeles can be a bit overwhelming, the eyes battling to focus on the array of Steelcase office/work solutions while constantly wandering to take in the 360-degree view of Los Angeles high above from the apex of the AT&T Center. Design Milk was recently given a tour by Steelcase's A&D workplace consultant, Danielle Razo, previewing examples of Steelcase's V.I.A. system (Vertical Intelligent Architecture), Susan Cain Quiet Spaces (designed for introverts!), the Gesture task chair, and the newly refined Elective Elements workstations.
The newly opened show floor was designed by Steelcase Design Studio in partnership with Shimoda Design Group as an opportunity for a hands-on/sit down experience for customers, with designated rooms/areas strewn through the U-shaped showfloor dedicated to workstation lines, accompanied with an array of research data collected by Steelcase in the development of their ergonomic and collaboration-nurturing workstations. iPads, HD displays, and projection screens are peppered throughout, offering guests realtime incoming global data sent in by Steelcase customers, with slices of information related to how, where, and when we all work.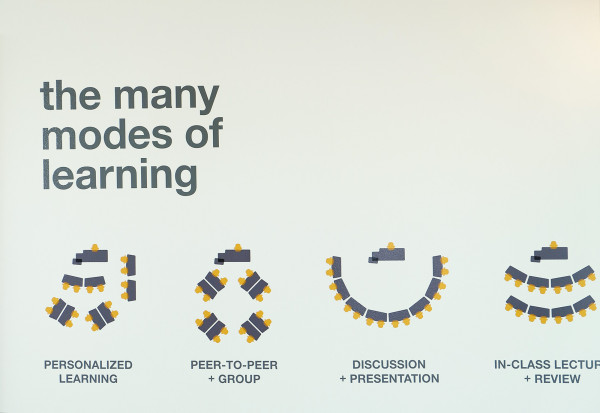 The Steelcase Worklife Los Angeles is located at 1150 S Olive St, Los Angeles, CA 90015, with virtual visits available via the Steelcase WorkLife iPad app.