Indoor and outdoor avant-garde home goods brand Vondom designs with dynamic people, innovators, and curious types in mind – sound anything like you? The aesthetic of their planters, lighting, and accessories are influenced by both fashion and trends, while simultaneously demanding the very best during each step of product development. Recently Vondom teamed up with renowned designer Karim Rashid to create a new chair based on a previous piece, and came up with the Voxel.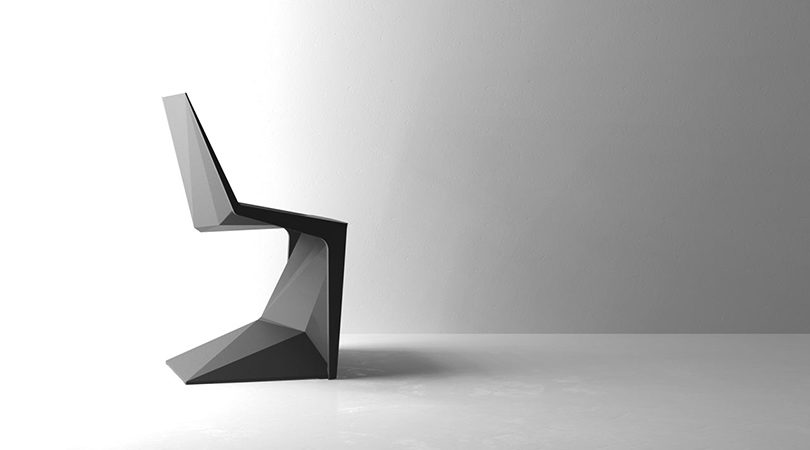 Based on Vondom's Vertex chair, the Voxel chair is both conceptual and architectural in shape and design, its precise faceted angles only made possible by injecting polypropylene into fiberglass and then into a mold. The weight of the chair is distributed to be balanced while keeping the form lightweight, making it nearly effortless to carry, arrange, and stack together when you're looking to save a little space.
The facets of the Voxel chair's form were placed for comfort and strength, then enhanced for visual effect. Both the focal point and the occupant's weight rest on the chair's unique base, eliminating the need for back legs while enhancing its silhouette. The indoor/outdoor Voxel chair is made in Italy and is currently available in black, blue, bronze, ecru, mustard, red, tortora, and white. It is currently available exclusively online through Lumens.
Founded in 2010 in Valencia, Spain, Vondom has since worked with designers such as Eero Aarino and Ludovica & Roberto Palomba, as well as Karim Rashid, to make creative use of plastics and other durable materials. The result is a line of contemporary furniture and accessories that run the gamut from playful to sculptural and beyond.
You can purchase the Voxel chair at Lumens.com. See Vondom's full line of offerings at vondom.com or visit one of their showrooms:
Miami 2301 N Miami Ave, Miami, FL 33127
New York 979 3rd Ave #1532, New York, NY 10022
Los Angeles 8687 Melrose Ave b114, West Hollywood, CA 90069