Failed Abstract Paintings Of The Seventies, 2003
When I read the bio of Los Angeles-based artist Wayne White, I discovered that he was a production designer for Pee-Wee's Playhouse (he won Emmys!) and also voiced several of the characters. It makes me love him even more! Based on his eclectic history and his latest work, he's got the creative chops to do most anything artistic. His collection of Word paintings consists of thrift store bought traditional landscape lithographs that he paints on with phrases in 3D letters. The sayings are often cheeky or ironic which mix perfectly with the kitschy work they are paired with.
These pieces are part of his exhibit "I Say A Lot Of Things" that runs through May 5th, 2012 at the Marty Walker Gallery in Dallas, Texas.
Beauty Is Embarrassing is an inspiring documentary chronicling the life and work of Wayne White. It was recently completed and there's a Kickstarter campaign to get the film into more theaters. For more information about how to donate, go here.

Schadenfreude, 2010

So Long Losers! Hey Guys I'm Back!, 2008

All An Act, 2005

Prolly, 2011

Not All There, 2007

It Never Stops, 2009

Wash Me, 2001

Crapola, 2009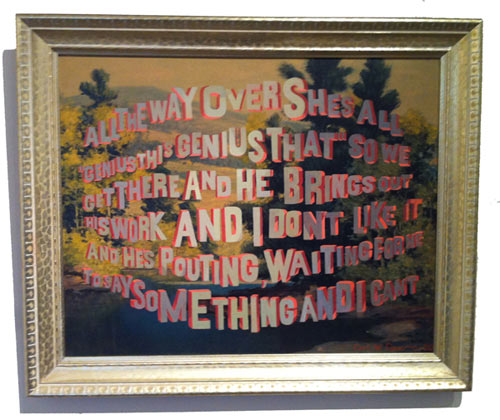 All The Way Over There She's All "Genius This Genius That" So We Get There And He Brings His Work Out And I Don't Like It And He's Pouting, Waiting For Me To Say Something And I Can't, 2012

Feathered Roach Clip Hangs From The Ignition Key Of A '73 Chevelle SS And Bounces To The Beat Of Immigrant Song on The 8 Track Player, 2012

They Used To Put Me Down In The Seventies, 2005
All images are copyright of Wayne White. Courtesy of Marty Walker Gallery.

Design From Around The Web