With faraway views of the mountains of Switzerland and Austria, the Weinfelden House, designed by k_m architektur, is situated on a sloped lot overlooking the town Weinfelden, from which the house gets its name. Purposefully positioned to face south to encapsulate the scenery, the home appears to almost float by the way it's rooted in the ground and also how the floors are stacked off-center.
The structure utilizes natural materials, like concrete and glass, and also wood which is the main material covering the exterior. The wood is a natural white pine that is from the local region and it has weathered to a light gray color over time.
The off-center design allows for a series of balconies and suspended terraces on each floor, giving each room access to the outdoors.
The upper floor houses the private bedroom suite for the parents that also includes a rooftop terrace.
The ground floor contains the dining room and living room, which has a really cool stove that acts as a room divider. These public, open spaces are filled with light due to the floor-to-ceiling windows.
The interior uses white pine on the floors and ceilings giving the mostly white spaces a bit of coziness.
This floor also has two bedrooms for the children.
The upstairs floor provides an overhang for this floor's terraces, providing shelter from the summer sun.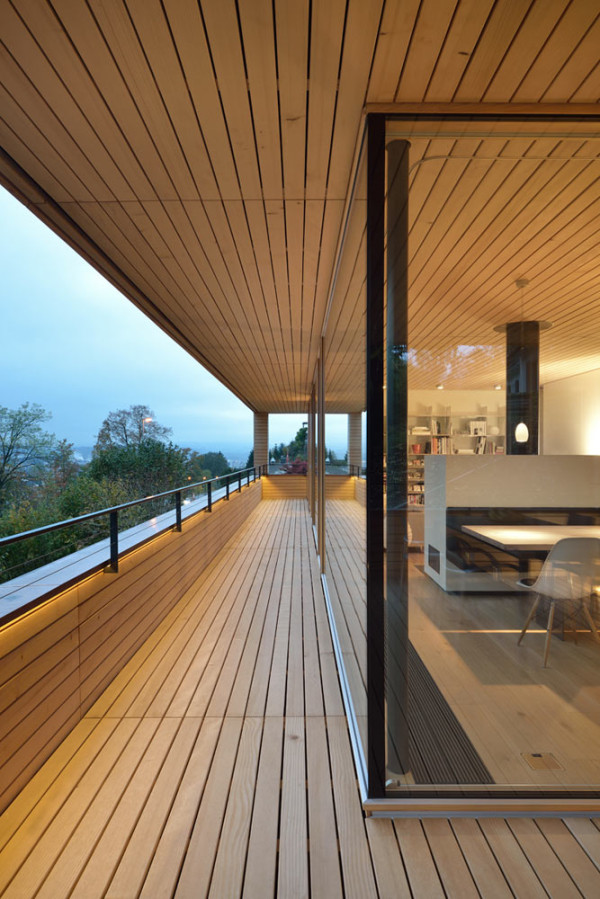 Photos by Sabrina Scheja.