West Elm has been showing their commitment to artisans and designers in many ways lately with their local program and their Minted x West Elm collaboration. Now, they've taken it to the next level with the West Elm Makers Studio, a state-of the-art creative workspace located at Industry City in Sunset Park, Brooklyn, New York.
The space is pretty expansive at 11,600 sq. ft. and will house more than a dozen artists, designers and craftsmen who design and develop West Elm products. If you've ever wanted to see or know how/where your products come from, then this is the perfect opportunity because they're holding guided tours during second annual Industry City open studio event THIS Saturday, April 18 from 11 AM to 6 PM. I hope we'll be able to stop by and check it out soon—It's like a dream creative workspace!
We talked to Jonathan Orr, West Elm's VP of product design about their new creative space:
Why was this space chosen?
Brooklyn is our home. We were founded here in 2002 and are excited to continue to deepen our roots in Sunset Park. Our photo studio has been located just one level below since 2012, so the upstairs was just perfect for us to move into. The West Elm Makers Studio is just an incredibly expansive space that is flooded with natural light. Our design team has been based in our DUMBO headquarters and as we continue to grow, we wanted to give our team a space that is equal parts inspiring and functional.
What kind of environment are you creating for these designers? What are you adding, changing and how are you outfitting the space?
Our goal is to create an environment to germinate and create new concepts. It's an exciting change for our designers – they'll have more time to discuss, think, collaborate, step back, and grow because it's away from the everyday bustle of the office. The West Elm Makers Studio will be a space where new, exciting products and ideas are created. There are seven separate work rooms – or studios – and include a ceramic studio, weaving studio, craft and painting studio, dye shop, jewelry/ metal work studio and carpentry workshop. There is something for every discipline with all the requisite machinery, supplies and space.
How and why has West Elm gotten so involved with working with independent designers and small design companies?
It is who we are and has been part of our heritage to connect with local, independent designers and our communities. We've been a part of this movement towards the makers and craftspeople since our inception in 2002, and people have increasingly wanted to know the story behind a product. When we connect with small, independent designers and craftspeople, we can tell their story, help preserve traditional techniques and support their growth while remaining authentic in the process. We've been linking artisans around the world, often starting a larger conversation and creating more artist cross-pollination since our founding.
What are the goals for this space? How do you see it being used?
We believe in the maker, and the West Elm Makers Studio will continue to focus our ideas and create authentically derived designs. Our goal for the space is to create an environment for design to experiment, incubate, grow and collaborate. Working with our existing collaborators and vendors, we will have artists visit and stay with us to work on projects, develop new and existing ideas, and teach us new techniques. A modern day laboratory for design!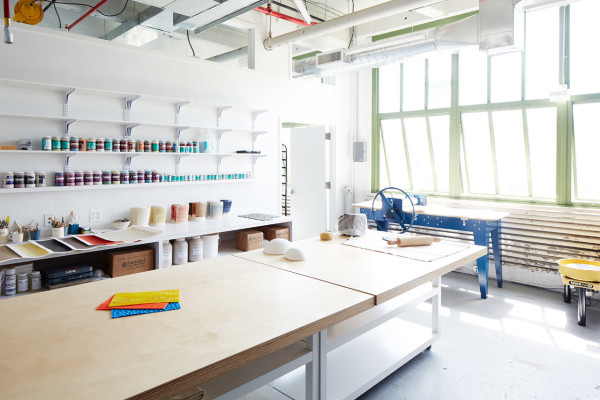 How can the local design community and design enthusiasts help support this effort?
We'll be opening the studios to the public on Saturday, April 18 as part of the second annual Industry City Open Studios from 11-6. The team and I will be offering guided tours of the studios, while our in-house artists and select collaborators are creating new projects. Stop by and see us! We love to meet new people and discuss new ideas – often a small conversation can grow into a big idea.
Anything else you'd like to add or share about the new space?
We have seen the response to our designs and artisan-made products grow incredibly and this new space will continue to focus our efforts and promote our growth. The West Elm Makers Studio reinforces our commitment to the art and craft of making – whether it's through our in-house design team or a local and international artisan or collaborator. It's an exciting time at West Elm.
The West Elm Makers Studio is on the 6th floor of Building 7 in Industry City located at 33 34th Street, between 2nd and 3rd Ave. in Sunset Park, Brooklyn, New York.
Photos courtesy of West Elm.

Design From Around The Web