Located in West Hollywood, California, the West Knoll residence was designed by Amit Apel Design Inc. to be a modest-sized home with an open flow and a feeling of being outside. Surrounded by lush native greenery, the home presented many challenges during the design process thanks to strict building codes for the city. Luckily the team got creative and worked within the parameters to make it all happen.
The front door is nestled between two protruding volumes, one that contains the double garage on one side and the other with the living room that opens up to the partially private front yard.
Part of the front yard is hidden away behind tall green shrubs, letting the family room extend out into the front lawn.
The interior is open with plenty of windows and sliding glass doors that open out to the outdoors.
Large square windows frame the green views that can be enjoyed from every room.
The living room's stone wall brings a bit of the outdoors inside.
Sliding glass doors disappear within the walls completely removing all separation between the indoor and outdoor spaces.
A covered, outdoor seating area overlooks the pool and is the perfect example of California living.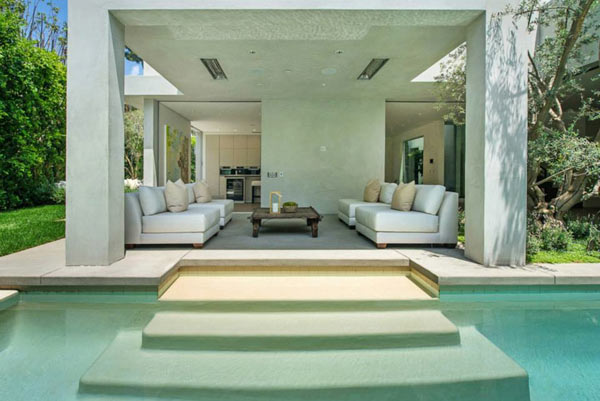 Step out of the covered space and into the pool!
There's also plenty of outdoor deck space for added privacy and to enjoy the views.
There's even a rooftop deck!