Nestled into the edge of a cliff in a suburb of Johannesburg, South Africa, the Westcliff Pavilion residence is built from steel, glass and stone and appears to hover above the ground. Designed by GASS Architecture Studio to make the most of the city views, the steel framed house comes complete with one side that's mostly glass and a floating stone wall.
By constructing the house in steel, the architects were able to leave much of the land intact by only having the footings disturb the ground.
The massive stone wall that's suspended in the steel frame was meant to show that a wall doesn't have to "rely on the ground at all for its solidity."
The rooms open up and corners disappear to allow the separation of indoor/outdoor to dissipate.
The structure truly feels like it was made for the land it was built on.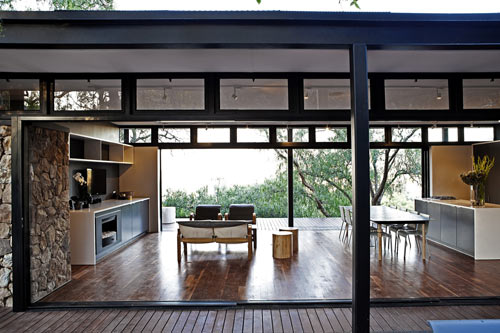 The view side isn't the only area that completely opens up, the other side does as well making the living areas feel expansive.
The two-bedrooms are on either end giving each room privacy, while the center is the shared, public space.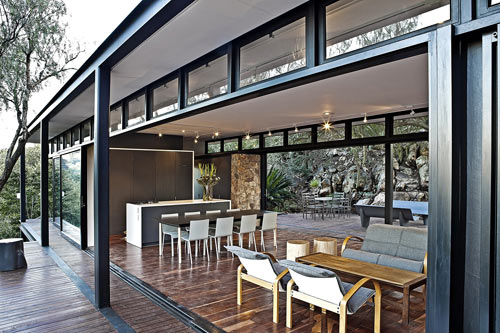 Check out the outdoor shower there on the stone wall!
Photos by Bernard Viljoen.