What Is Hope? Taps Into Kinetics + Inspires Optimism for DIFFA
What Is Hope? Taps Into Kinetics + Inspires Optimism for DIFFA
1/16 Photos
2/16 Photos
3/16 Photos
4/16 Photos
5/16 Photos
6/16 Photos
7/16 Photos
8/16 Photos
9/16 Photos
10/16 Photos
11/16 Photos
12/16 Photos
13/16 Photos
14/16 Photos
15/16 Photos
16/16 Photos
A new experimental sculpture has been created by Giles Miller Studio in honor of the Design Industries Foundation Fighting Aids (DIFFA) in New York. What Is Hope? was unveiled in March 2022 during an event celebrating DIFFA's nearly four decades of raising funds to fight AIDS, homelessness, food scarcity, and mental health issues.
"Inspired by their cause, and at a time when global issues feel relentless in their oppression of humanity and happiness, we saw an opportunity to call for optimism," Miller shared.
The sculptural sphere was created in collaboration with the NYC branch of HDR as part of their most recent exploration of the relationship between light and geometry. What Is Hope? features a matrix constructed of hundreds of cylindrical modules that are connected by raw aluminum rods. Most of the static silver reflective 'dots' are oriented in the opposite direction of those in the central core. The central 'dots' constantly rotate, which Miller hopes will inspire optimism, reminding the viewer to hold onto the hope found within themselves.
"As a studio we continue to develop new surface and sculptural typologies, and with every iteration comes a deeper understanding of the visual and material effects they are able to generate using reflection and the manipulation of light," Miller said. "This latest installation incorporates a kinetic element in the central spinning core, and as always, our work is typified by an artistic approach to a designed system (in this case named the Plexus system), which we look forward to developing into new forms and installations in the future as this concept evolves."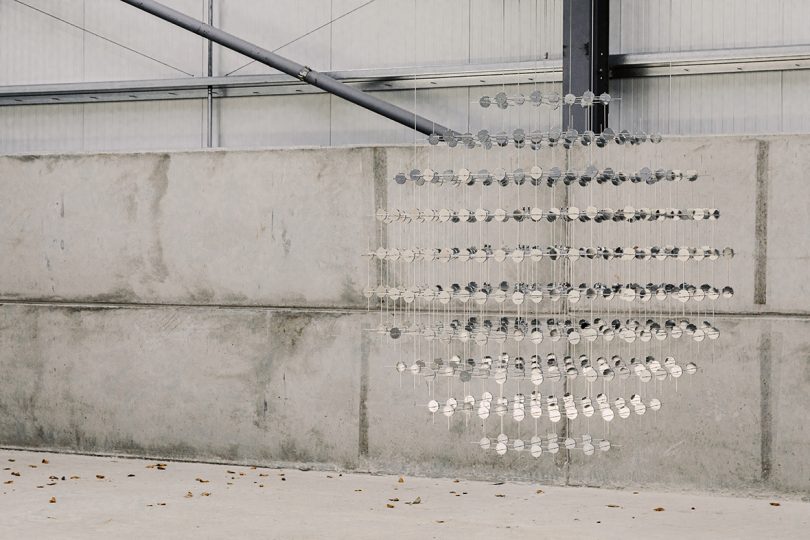 To learn more about the What is Hope? sculpture, visit gilesmiller.com.
Photography by Edvinas Bruzas.