We have to acknowledge the apparent contradiction that being a part of Milan Design Week entails — after all, the act of participation in itself contributes to increased production
JOIN by Norwegian Presence opens with the question of whether, for all the sustainable concepts that designers tout through their products, exhibiting in Milan is overall just detrimental to the environment and produces more waste. Their answer: "We believe in the power of this platform to build awareness and influence the industry…there is no better in the world to make our case."
This culminated in JOIN, a self-reflective exhibit of objects curated by Oslo-based creative studio Kråkvik & D'Orazio. With sustainability at the forefront, the curators—Italian-born Alessandro D'Orazio and Oslo native Jannicke Kråkvik—united 21 designers and seven furniture manufacturers to contribute products that further their vision of a shared, sustainable future.
In selecting for sustainability, Kråkvik said, "The items we have chosen must give something in return through longevity, decomposability or through the way in which they are produced."
"We have also considered aesthetics in combination with commercial value. Unique objects are juxtaposed with products we believe can compete in an international market," D'Orazio continued.
Here are some highlights:
Slurp Bench by Henrik Oedegaard—An exploration of how much matter is required, and how much we can actually leave out, Odegaard made a pine bench lacquered in blue, with holes indicating the knots and weaknesses in the raw material.
Spenn by Noidoi—A table lamp with form-pressed oak veneer and brass, captures the tension between a down facing light and arc. The design brings the amount of material in a lamp to a minimum and cuts a clean image similar to that of a bow.
Strand by Vera and Kyte—The Bergen-based design studio created deep green baskets in anodized aluminum to give shape and color to a storage unit.
The Half Moon Table by Tron Meyer—Made in stainless steel and neon acrylic, the folded table uses the visible surface of polished steel to mirror itself.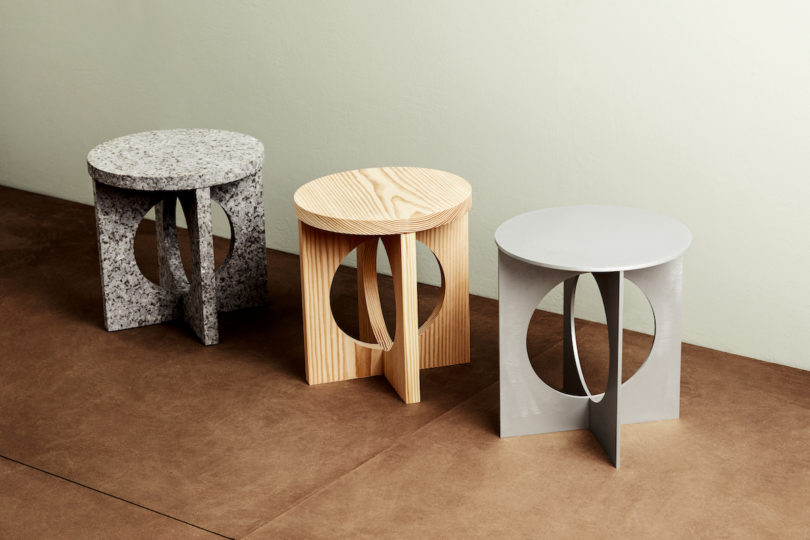 Cyclop by Tron Meyer—The collection consists of a table in anodized aluminum and a set of chairs in anodized aluminum and larvikite (a feldspar found in the Fjord region in Norway) with a Dinesen Douglas finish. The legs' rectangular surfaces have circular holes that mirror the shape of the chair seat. These legs have a simple locking mechanism to reduce weight and produce the shape of an eye or "Cyclop."
Balans and Ekstrem by Varier—Varier, the furniture brand inspired by movement, crafts pieces that invent new ways of sitting and give you freedom to move. They presented their Balans chair by Peter Opsvik and Ekstrem by Terje Ekstrom.
Local by Martin Høgh Olsen—Small powder coated and sandblasted aluminum tables with tops in 3 colors: blue larvikite, oiled walnut and natural oak. They can be used as side tables or stacked as storage modules.
Reflecting on how JOIN speaks to the state of Norwegian design, Kråkvik said:
[Norwegian contemporary design is] at a very high level. Norway doesn't have the same design traditions as the other Scandinavian countries, and Norwegian designers are generally very free in their approach. This playfulness shines through in this selection. Also, there are a lot of new names this year, which is always fun to see.