Department stores have been closing up shop as people spend more money online than in actual stores, leaving abandoned buildings ready for the taking. Instead of these empty shells going to waste, people are going in and converting them, like Retail Design Collaborative and their sister company, Studio One Eleven. They recently reimagined a vacant Nordstrom Rack in Long Beach, California, into the RDC-S111 Urban Office, a creative workspace that also performs as a hub for community engagement.
The vacant space offered up 34,100 square feet of potential for the two architectural firms that had previously inhabited the 21st and 22nd floors of a high rise. Longing to be better connected to the community, they set out to design the empty department store and create an "Urban Gallery," a flexible and evolving workshop.
The flexible layout affords the companies to work within a large, open space, with three raised sections that work as smaller gathering spots for private meetings.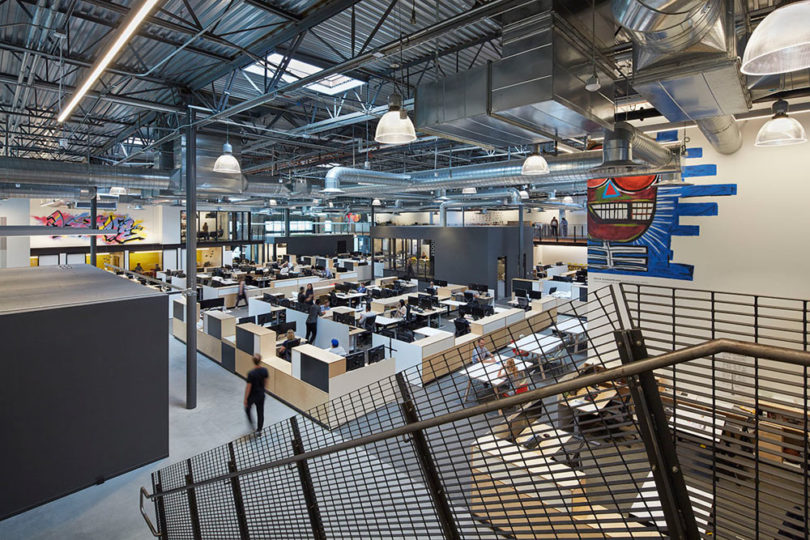 The furniture is custom and allows for reconfiguration as needed, along with drawing surfaces and adjustable height desks. They designed the furniture with raw, industrial materials that work seamlessly throughout the space.
The primary gathering spaces are laid out near the windows so they face the streets, allowing a connection with the people passing by.
The project features sustainable design, like natural ventilation, lighting controls, low water consuming fixtures, etc., helping to certify the project LEED Platinum and WELL Gold Certification.