Chances are pretty hight that you're familiar with Chilewich, and may even have Chilewich placemats on your table. (My cat has her very own, but I digress.) Sandy Chilewich is the founder and creative director of New York based-Chilewich | Sultan LLC, which she owns with her partner and husband Joe Sultan. Their textiles have transformed how people dress their tables at home and in restaurants around the globe, while their floor and wall coverings provide a clean contemporary high performance textile for residential and commercial applications. Plus, the brand is renowned worldwide for its modern interpretation of underutilized materials and manufacturing processes. Today, Where I Work visits Sandy Chilewich in her office.
What is your typical work style? 
I have long to-do lists, which I add to and look at constantly. I have everything on my list from simple actions like "call so-and-so" to "think about doing a new shade of green for the Bamboo weave." I am very disciplined about getting through my lists and generally update them weekly.
What part of your job do you enjoy most?
As the creative director, product development and marketing is my primary passion. However, I design to sell, so I am extremely involved in sales too. Sales growth through product innovation and product expansion is what fuels me. Balancing art and design with commerce is my ongoing objective and getting it right, so I am both proud of a design and it sells well, is my reward for my hard work.
How is your office arranged? 
I have a smaller room off the bigger design space, which is the creative hub. In my space, I am always making a mess or I am cleaning up, and I do both constantly. Since I bridge both the commerce and design part of the business, my room will be buried in both paper (tons of reports and analyses), and on top and below the paper are swatches, yarn, prototypes, pictures, and books–it's all mixed up. After a week of this growing mess I spend a few hours putting everything back where it belongs.
I have walls that I pin my latest infatuations up on, as well as a wall of bins, which house weaving "blankets." These are trials that are hand woven samples that show different weaving constructions and colorations. They are a constant source of inspiration and knowledge.
The larger design space, which I am in and out of a hundred times a day is very organized with work in progress and bins and binders of all past and future product development. It is much more organized than my office!
How long have you been in this space? Where did you work before that? 
We have been in our current space in midtown Manhattan for over seven years. I have always lived and worked in New York City.
If you could change something about your workspace, what would it be?
I don't really have a showroom. I wish I had a blank beautiful space with concrete floors and great light in which to present our products for all applications. One day…
Is there an office pet?
Scooter "works" at the office with me a few times each week—he is very popular amongst the staff! His favorite thing to do during the day is find a nice shag indoor/outdoor mat from our collection and take a nap. He also makes special appearances at our photo shoots now and again.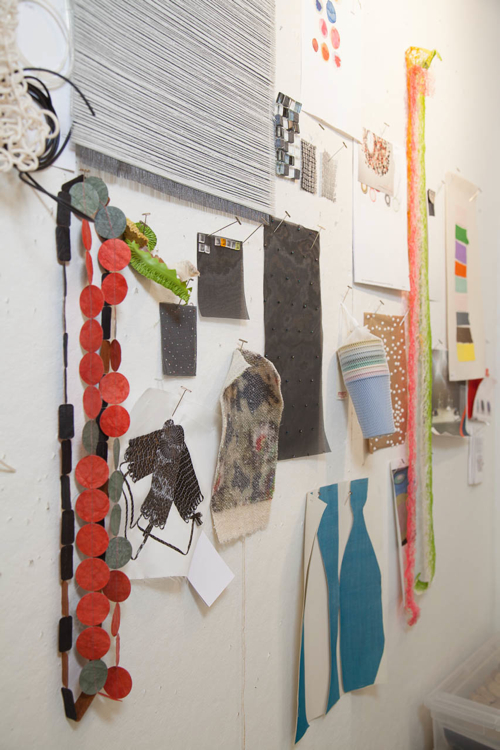 Do you have an inspiration board? What's on it right now?
My board is always filled with examples of different processes for making things, so it could be a necklace because I'm intrigued with the way the pieces are connected, or how individual tiles are adhered to mesh. The board also has the beautiful mistakes that happen in production or sampling, which really can't be duplicated but are still very thought provoking.
What kind of design objects might you have scattered about the space? 
We recently reorganized our office space and I now have a fantastic room designated for my props—shelf after shelf of objects that I have picked up during my travels over the years. I get such enjoyment selecting the perfect prop that brings out the essence of a texture or color in a textile I have designed.
Are there tools or machinery in your space? 
We don't have weaving machinery at our offices in New York, but all of our woven textiles are produced in the USA and finished at our own warehouse and manufacturing facility in Georgia. We use custom-designed equipment to slit  bolts of our fabric to the proper width, heat-seal the edges of our placemats and adhere backings to our different  textiles for our flooring and wall coverings.
Do you have a favorite piece or collection that you've designed? 
Impossible question! It's like asking who is my favorite child. Each individual season though has a favorite. The Mini Basketweave in Confetti is the latest one. The concept was to achieve a color that cannot be clearly identified by using multiple colors.
Tell us about a current project you're working on. What was the inspiration behind it? 
Recently I have been inspired to explore the infinite variations I could create by weaving with only black and white yarn. Playing with the proportions of only two colors within each of the three weave constructions is limiting and limitless at the same time.
I created individual yarns, which incorporated both black and white in a single strand. The result when weaving with these unique yarns is always unpredictable, but in this exercise it provided soft beautiful gradations between the high contrast of black and white.
What's on your desk right now? 
Sales reports, my glasses, my iPad ,and my iPhone, which has a new cover featuring our Mini Basketweave Confetti. A new collection of Chilewich iPhone 5 cases, in collaboration with Griffin Technology, will be launched in Apple stores and online very soon. My Nicorette gum is also with me wherever I go!
Do you use any of your pieces in your own home/life? 
This is a photo of my home with tabletop, flooring, and window coverings from our collection.
When did you feel like you "made it"? 
I am not an artist—I design to sell, but always with as little artistic compromise as possible. My best moments come when something I have designed is selling like crazy. It thrills me that thousands of people across the globe consider my products amongst many and then buy mine. The first moment I realized I made it was when I introduced my placemats 13 years ago, and the phone started ringing off the hook because stores wanted to reorder.
Photos 16 & 17 by Adrian Wilson Interior Photography; all other photos by Victor Schrager Photography for Chilewich.