Barcelona-born Cristian Zuzunaga is commonly known for his pixelated home furnishings, like boldly colored rugs, blankets, pillows, lamps, and textiles, designed for various companies, including Kvadrat, Ligne Roset, Hastens, Nanimarquina, and Camper. The award-winning designer currently splits his time between London, Barcelona, and La Garrotxa, Spain, where he lives with his family in an old farmhouse. While his farmhouse space in the basement is more rudimentary, his Barcelona showroom and office are the complete opposite, with his art and furniture on display for visitors. Cristian gives us a look at his work style, his spaces, and some of his work, in this month's Where I Work.
What is your typical work style?
I am based in different places—London, Barcelona and XII century farmhouse where I live with my family in La Garrotxa—and work at each place depending on what needs to be done. Each location makes for a different schedule and time frame. The office in Barcelona tends to be for holding meetings. While driving, I tend to mentally review my agenda. On the tube or train, I read. And at my letterpress/print workshop in the country, I apply what I focus on my creativity.
I also write my dreams. This is my main trigger and motivation. I work when I dream.
I don't like instability or to depend too much on others, but I do thrive in a flexible environment. I work well when I'm up against challenges, contradiction and unexpectedness. I like to work on different projects simultaneously as it keeps me fresh and motivated.
What's your studio/work environment like?
It is messy in a controlled way. I have 4 desks: 3 at the letterpress workshop and 1 at my Barcelona office. In London, I do not need a desk at the moment.
The letterpress workshop is located in the basement of our farmhouse. The walls are wide, solid and strong. There is no noise, no distractions and no telephone signal. So I can get a lot done. I feel time in a compact and compressed yet extremely fluid way in there.
How is your space organized/arranged?
In Barcelona, we have an open-plan, loft style space located in Poblenou, once occupied by the 1992 Olympic Village. We divided the space in two, so there is an open area that is used as a showroom, where we display and test our ranges, as well as my artwork. The other area is an office space with a huge ping pong table that we use to bounce ideas. There is also a small kitchen.
At the farmhouse, the basement, had previously been used like a storage area, and for centuries before that, where cows were kept. It is a long rectangular space that we renovated into four designated areas.
In the first room, there is a French etching machine from 1890's. In the next space, there is a 1950's FAG Proofing Press machine which I use for most of my printing. The third space is used for cutting, editing and storage. There are plan chests, a guillotine and a display wall. Finally, the fourth room serves as an office, with 3 desks, computers… I added a mezzanine to store the first production prototypes, the masters. It's my time machine, a library of my work.
How long have you been in this space? Where did you work before that? 
Four years in Barcelona, five in the farmhouse. In London, I have moved around a few times since 2007, when I first arrived to study typography and graphic design at London College and later, for my MA, Royal College of Art.
If you could change something about your workspace, what would it be?
I would love a bigger window in my workshop in the countryside. I'm essentially in the basement, and would love more daylight. I'm like a vampire in there. Then again, the way it is now allows me to better concentrate without distractions of the outside world. I would love a bigger scanner and bigger printer. You always want bigger because it's better for testing textile prints.
Do you require music in the background? If so, who are some favorites? How do you record ideas?
I like to work alone as I get distracted easily. I usually play electronic music. Depending on the work I do, it varies, from ambient to techno, from goa trance to electro. Some friends say I am stuck in the 1990's. That may be true!
I love music in general and if I like a song I play it repeatedly until I get bored. (I never really do though. I have folders with obsessively played songs!)
I record my dreams. I have several sketchbooks and notepads.
Do you have an inspiration board? What's on it right now?
No inspiration analogue board. I use photography as my board (iPhone mainly).
What is your creative process and/or creative workflow like? Does it change every project or do you keep it the same?
I work all the time. Everything has to be interlinked to make sense in a deeper and kind of obsessive way. It is my narrative. I run a company. I keep my artwork alive even though I do not show it much. I design for other companies, collaborate with artists, designers. I read, teach and write. All of this is linked with meaning and thoroughness. I try to be systematic. But I also fail, and the unease that this creates allows me to expand.
What kind of art/design/objects might you have scattered about the space?
I collect. I collect all kinds of things, from found objects (wires, stones, metal pieces, photo booth portraits). I print digitally onto textiles, with the etching machine or letterpress machine. I am a keeper. I tend to accumulate objects, print proofs….
Are there tools and/or machinery in your space?
There are machines, textile samples everywhere…. Well, it is a workshop isn't it?
What tool(s) do you most enjoy using in the design process?
I use Photoshop. I'm still using a 2005 version and refuse to update it! I use the tools involved in carving and machines to print, and I occasionally weave or cross stitch.
Let's talk about how you're wired. Tell us about your tech arsenal/devices.
I have two iPhones — one for the UK and one for Europe and the rest of the world; a 27" desktop, a 21" desktop and a 13" laptop. I don't feel comfortable using an iPad. I am still analogue in a way. After all, I still love the old printing presses.
Satellite Internet is crucial since the farmhouse is located in the middle of a volcanic natural park, near Girona.
What design software do you use, if any, and for what?
I am often called the "Pixel Guy" because of my work with pixelated imagery, but the reality destroys the pre-conception of me as a tech-minded artist: I prefer cut and paste along with retouch in Photoshop and some layout with Illustrator or InDesign. But I am proud to say that I have not mastered that software. In fact, technology tends to make me feel uncomfortable. So I rely on others to visualize certain parts of a project. This is allows me to let go of parts of the process, and I love working in this collaborative way.
Is there a favorite project/piece you've worked on?
I enjoyed creating the Inca collection. Not only was it a reference to my Peruvian heritage, but it was also the first time I imbued the work with a three-dimensional texture. It was not down to color anymore to a tactile quality with the concrete surface of the Inca Side Table, or the reflective effects of the Inca Mirror. These pieces generate a friction with light and shadows, depending on light and day and where they are positioned, of course, that provide an enriching dimension. It's my most recent work, so of course, I find it the most exciting and most challenging so far.
Do you feel like you've "made it"? What has made you feel like you've become successful? At what moment/circumstances? Or what will it take to get there?
We all made it already by beating the hundreds of thousands of spermatozoids to fecundate the egg that eventually made us so we are all winners. The problem is that the vast majority of our fellow humans are not present or aware of this fact. I do not need to prove anything. I observe, I question, I research and I tend to complicate my life by taking the hard route. But this is always more enriching.
Tell us about a current project you're working on. What was the inspiration behind it?
My ongoing "project" is the range of Zuzunaga products. That is what roots me. I combine the product work with letterpress and digital printing, screen printing and mold making. I always start projects in a collaborative way, with artisans and artists. I am focusing on the concept of the cube, of space in a traditional, unchanged and ancient way. I am working with different materials that have shaped our very existence—stone, bronze, iron, lead and aluminum.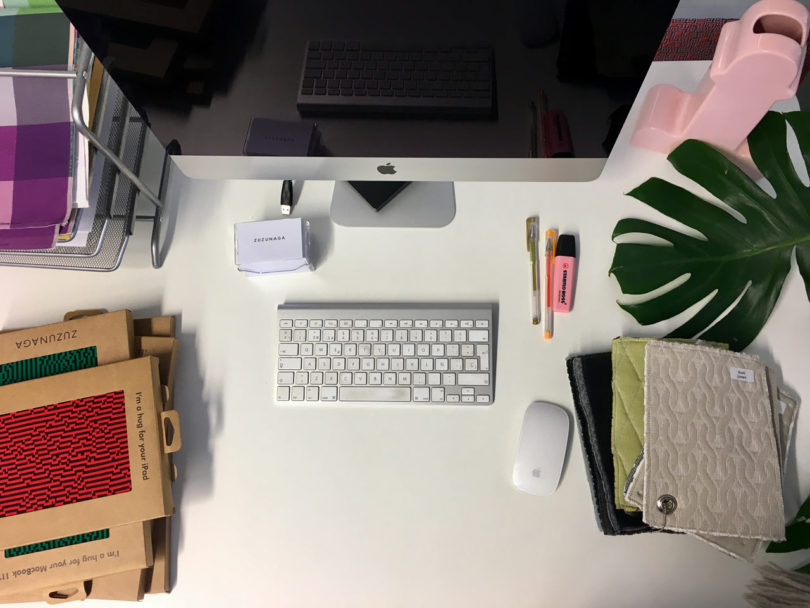 What's on your desk right now?
At the Barcelona office, I tend to keep my work space spare: just my Apple desktop computer, a white board within reach with my notes and to my left, samples of textiles. At home, the connecting rooms are filled with my letterpress equipment, samples and computer.
Do you have anything in your home that you've designed/created?
Yes, of course. Every single prototype is there. My wife Anna and I laugh about it because we do not have finished or commercial items, only the prototypes! Some are perfect, some are, well, a kind of work in progress. Like life is.