As a young boy growing up in Maine, Aaron Ruff was fascinated with the idea of stumbling upon hidden treasures and unearthing ancient relics. As the son of a craftsman, he was instilled with a strong sense of artistry and construction, and worked both as a carpenter and cabinetmaker before studying furniture design at Parsons. Today he creates jewelry inspired by everything from history and literature, to the design of nature and tools of necessity. His company, Digby & Iona, which he created in 2006, is named after two quiet seaside towns, Digby and Iona, in Nova Scotia. For this month's Where I Work, Ruff brings us into his Brooklyn studio.
What is your typical work style?

I live a few short blocks from my work studio, so can roll out of bed and be in my studio by 9 AM. I work pretty intensely over the day and then fade almost as fast, locking my door at 6 or 7 PM.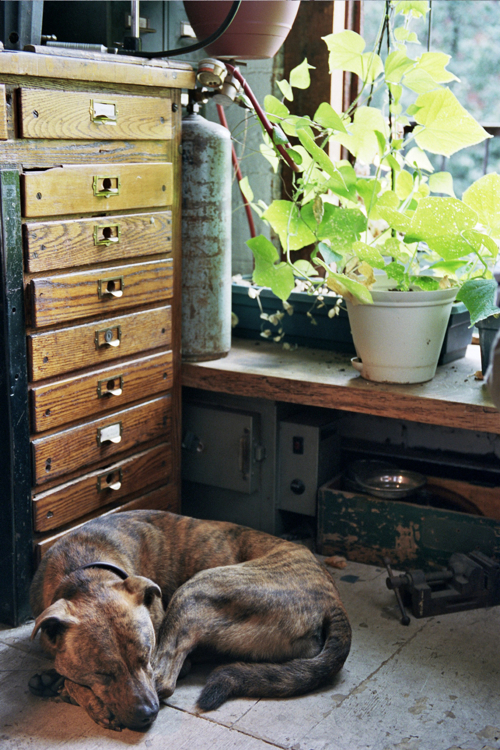 What's your studio environment like?

Loud and messy. I share the Digby & Iona studio with my rescue dog Nuki, who likes to wander around saying hello to people walking past the door, and our favorite records.
Why so loud? Do you crank the music?

It's loud mainly because of the grinding and polishing machines, but we've been listening to a lot of Black Keys, Bob Dylan, and Velvet Underground lately.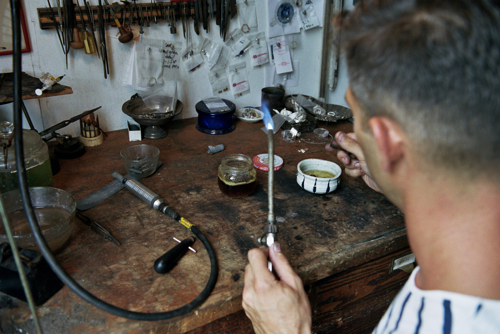 What other tools and machinery do you have?
The studio is filled with tools, mainly the foredom, polishing wheels and torch.
What's a foredom?

A foredoom is also known as a flex shaft; it's the benchside tool the a jeweler uses for everything—cutting, sanding, and even setting gems.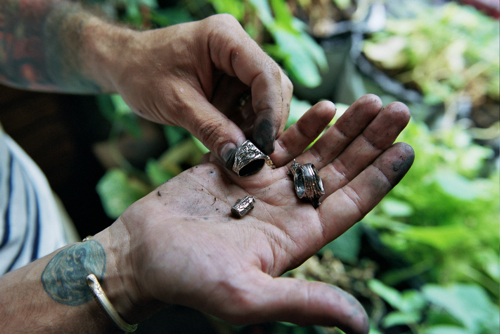 What tool do you most enjoy using in the design process?

Carving wax is always very satisfying, although I rarely get to work in that medium these days.
How long have you been in this space? Where did you work before that?

I've been in the space just over a year. Before that I was in an old storefront a few blocks away, but the place got condemned so we had to move on.
How is the space organized?

I work in The Invisible Dog Art Centre, which is basically a long rickety hallway with work spaces on either side, like a rabbit warren. It's home to some amazing illustrators, musicians, and artists, and our close proximity to each other has allowed me to collaborate with people like children's book author and illustrator Oliver Jeffers, with whom we created a collaborative jewelry collection.
If you could change something about your workspace, what would it be?

More space would always be nice. I daydream about having a nice comfy couch or armchair in here even though it would kill productivity.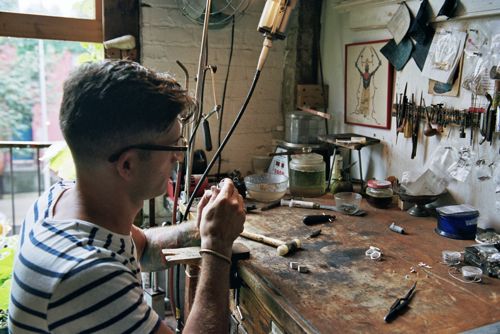 Tell me about your tech arsenal.

To be honest, the studio is pretty low tech.  Sometimes I feel like I was born in the wrong era. Occasionally there's a very dirty MacBook on my desk which helps me stay connected with the outside world. The majority of my work happens at the bench. Behind the computer is a lot of social networking and website updating.
What amazes you about what technology can do now that you would have thought impossible just a few years ago?

The capability to rapid prototype with 3D printing has changed everything since I started making jewelry. I still prefer to make things the old school way, but it's always nice to know the technology is out there if I need it.
How do you record your ideas?

I'm not the best person at documenting ideas, so the entire wall around my work bench serves as a pin board. I pin sketches, post cards, tear outs from magazines and newspapers, swatches of materials, vintage diagrams, and tools.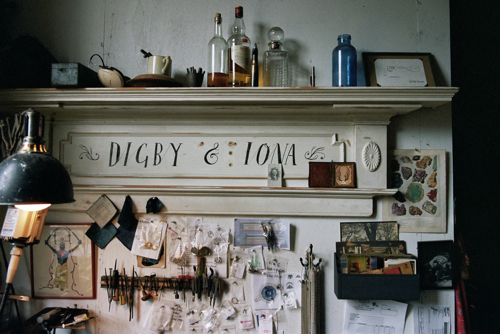 What's on your inspiration board right now?

A lot of triangles. I have been exploring geometry, dimensions, and parts of history where triangles were largely featured.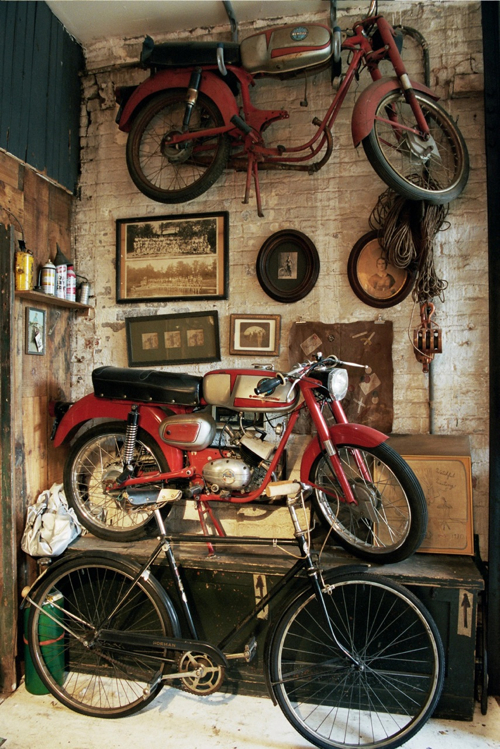 What kind of design objects are scattered about the space?

The studio is a reliquary of antiques, mostly nautical, military and mechanical, dating from the early 1800s to the 1950s. I have a collection of industrial lamps with filament bulbs, two vintage motorcycles (one to ride and the other for parts), photographs of portraits from the 1930s, fishing tackles, vintage ropes, and drawers of treasures.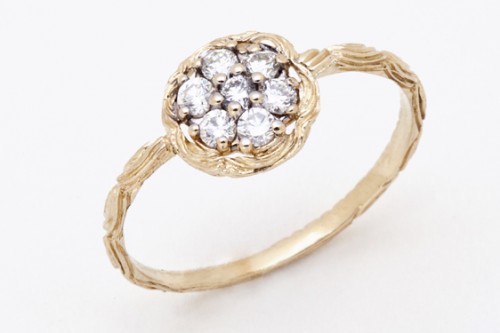 Do you have a favorite piece that you've designed?

This is a tough one—it's like asking a parent to choose their favorite child. I bring out new collections regularly, so my favorite is always one of the most recent designs, but it's constantly changing to be fair to all of them. At the moment I'm pretty into my Atreyu ring.
Can you tell us about a current project you're working on?
I'm just finishing up my Fall/Winter 12/13 collection at the moment. It is inspired by some advanced geometry and fractals. The following collection will be based on arithmetic and measurement.
What's on your desk right now?

My desk is a mess of jewelry components, tools, and miscellaneous junk. One thing about being a collector is wanting to keep everything.