Where I Work: Enis Karavil of Sanayi313 Architects
Where I Work: Enis Karavil of Sanayi313 Architects
1/18 Photos
2/18 Photos
3/18 Photos
4/18 Photos
5/18 Photos
6/18 Photos
7/18 Photos
8/18 Photos
9/18 Photos
10/18 Photos
11/18 Photos
12/18 Photos
13/18 Photos
14/18 Photos
15/18 Photos
16/18 Photos
17/18 Photos
18/18 Photos
Enis Karavil is creative director and co-founder of Sanayi313 Architects, a multidisciplinary studio he launched with his brother, Amir, in Istanbul, Turkey in 2015. After they both studied economics at Bentley University in Massachusetts, Enis went on to focus on his passion for interior design and attended Inchbald School of Design in London. The brothers then came together, with Enis' affinity for design and Amir's business expertise, to form both Sanayi313, their brand of high-end furniture, home and fashion accessories, and Sanayi313 Architects, their architecture and design studio that concentrates on projects spanning renovations to new builds, from luxury residential to commercial in Istanbul, London, New York and Miami. Their studio is located in a converted warehouse in a building that once was an auto repair shop in the Maslak Automobile and Industry District of Istanbul. The underdeveloped area's unique architecture is present in their space with concrete surfaces and original details. In this month's Where I Work, Enis brings us inside their industrial studio to look around and to see how he works.
What's your studio/work environment like?
The studio, although it looks a little messy, is in fact carefully arranged in its own unique way. Like every creative office, it has its own rhythm and beat. I don't think it's possible nor is it a good idea to keep a properly organized workspace when you are working in the creative industry as it can reduce motivation and creativity. My dog Polka is also always around, hanging out with us in the studio, which is an added bonus.
How is your space organized/arranged?
Everyone in the studio works around a long open desk made of concrete.
How long have you been in this space? Where did you work before that? 
Since we founded Sanayi313 in 2015, we have been working from this space. Prior to that, I was living in London and working from my London home in Notting Hill.
If you could change something about your workspace, what would it be?
Materials and textures are crucial for me in the creation process. I would have liked to have a separate materials library in the office where I could display and have easy access to different kinds of material samples.
Have you had to make any adjustments to how you work because of the pandemic?

I separated myself from the long open desk during this time by creating a fully enclosed glass cube in the studio to allow social distancing and self-contained work.
How do you see things changing in your workplace moving forward with COVID-19 now a part of our reality?
The side effects of Covid-19 are now being integrated into our lives, albeit slowly. Face-to-face meetings are now easily conducted by video, and with this pandemic many employers and employees had to quickly adapt to implementing flexible working hours, and thankfully we are managing as a team to this new way of working.
Is there an office pet?

Yes my dog, Polka testing out a pair of newly upholstered chairs. It is great having a dog around the office, it really helps people destress.
Do you require music in the background? If so, who are some favorites?
I usually listen to the music playing from downstairs where we have the Sanayi313 Store and Restaurant. It's playing "Why Can't We Live Together" by Timmy Thomas right at this moment.
How do you record ideas?
I write and sketch on a piece of paper or paper napkin, or on whatever I can find. Once I'm done, I always take a picture of it. (Paper Napkin notes during pandemic)
Do you have an inspiration board? What's on it right now?
Yes, I do. Most recently, we have created this mood board for a hospitality project that we are working on.
What is your typical work style?
I like working in the office the most, because I think that I'm most productive during regular working hours. I usually plan and schedule everything for the day early in the morning, but of course spontaneous changes always happen and it makes the day more dynamic. If I'm to work at night, I prefer to use this time to do research only.
What is your creative process and/or creative workflow like? Does it change every project or do you keep it the same?
Creative ideas and inspiration come from all types of situations, mostly when I'm traveling and when I'm least aware of it. I always keep a visual diary of things that inspire me. And when I start on a new project, I first take a look at what I have collected, find a starting point and build on my design from there.
What kind of art/design/objects might you have scattered about the space?
To Have and To Hold Wing Bench by James Plumb and the artwork by Vasilis Poulios are my favorites.
Are there tools and/or machinery in your space?
I collect small objects such as rulers, folding meter sticks, magnifying glasses which I keep in the studio.
What tool(s) do you most enjoy using in the design process?
My vintage Dunhill ruler and lighter.
Let's talk about how you're wired. Tell us about your tech arsenal/devices.
I use an iMac in the studio, carry an iPad for presentations and a MacBook when I'm traveling.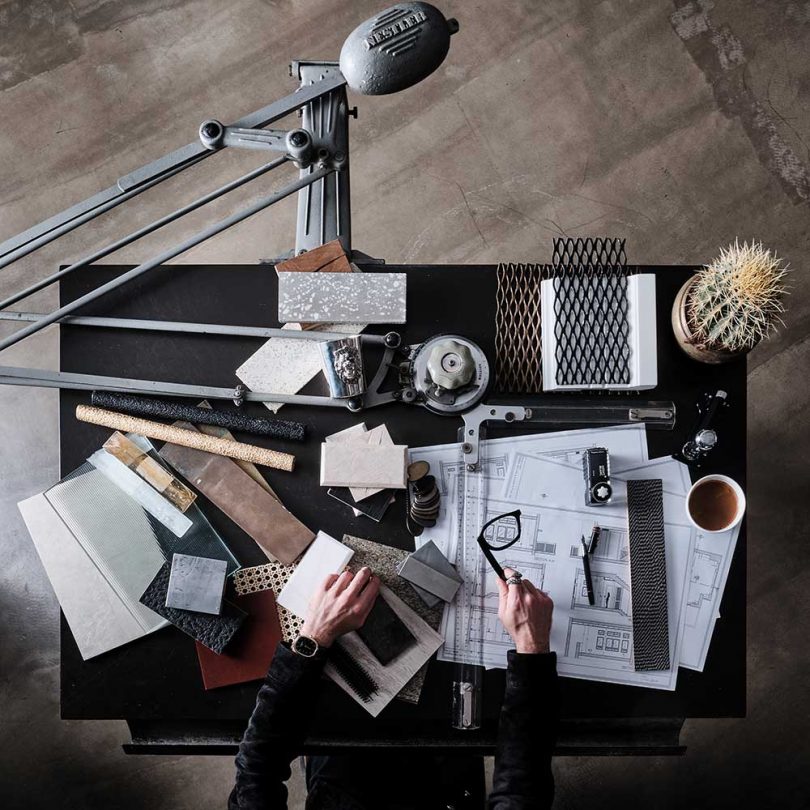 What's on your desk right now?
So many things☺ there is order in the chaos!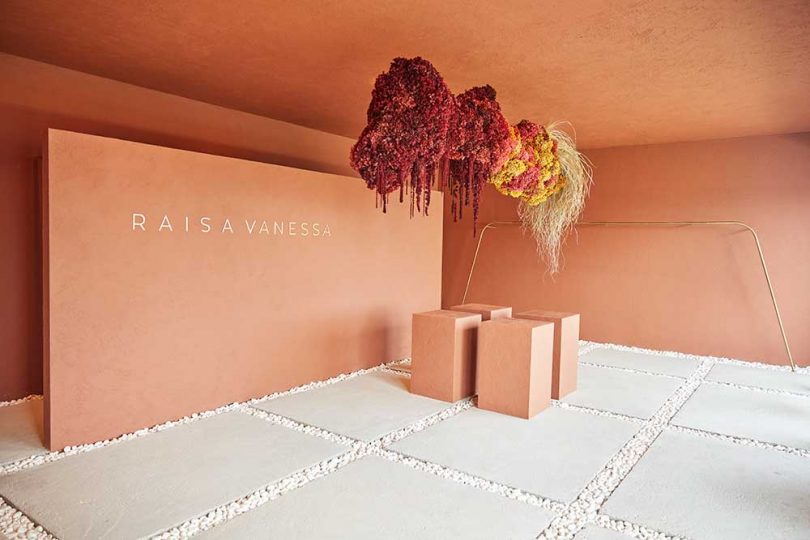 Is there a favorite project/piece you've worked on?
Raisa Vanessa pop-up store which just opened at the Mandarin Oriental Hotel in Bodrum. It was a lot of fun translating the brand energy into a seaside space.
Tell us about a current project you're working on. What was the inspiration behind it?
Currently, I'm working on a beach house project in Miami Beach. Considering the objects that I chose for this particular project; I have noticed that I was heavily influenced by the 1950s.
Do you have anything in your home that you've designed/created?
My 07313 Side Tables, which form part of my furniture collection are always by my side.