New York City based Greg Keffer is a Partner and Studio Leader at the award-winning Rockwell Group, where he heads numerous international hospitality, residential, retail, and office projects. In just six short years, Keffer has worked on various projects, like NeueHouse Hollywood, The Time Hotel (NY), Sky (NY), William Morris Endeavor | IMG (NY), and Station House (Washingon, DC). Currently he's overseeing the new, much-anticipated Warner Music Group headquarters in downtown Los Angeles, as well as Nobu Downtown (NY), Hotel EMC2 (Chicago), W Madrid Hotel, Moxy Miami, Union Square Cafe (NY), MGM Cotai (Macau), and Battersea Power Station (London). In this month's Where I Work, Keffer shows us around the Rockwell Group's Union Square office and gives us insight into his work process.
What is your typical work style?
I work best when I am juggling multiple projects. I really enjoy the challenge of solving a variety of design issues at different scales and within various typologies simultaneously.


What's your studio/work environment like?
Rockwell Group is organized into 7 studios, allowing the highly creative energy of our designers to be concentrated in smaller groups. Our studio is very focused, yet highly collaborative, and we encourage the cross-pollination of ideas within and between the groups. To encourage creativity among our designers, each studio works on a diverse array of projects. It's a very supportive environment, but we also tend to throw more green designers into the deep end as I feel people grow when challenged. Its also not a hierarchical environment. For each project, the best idea wins regardless of the designer's seniority or experience.
How is your space organized/arranged?
Our area is open, yet organized. We renovated our space two years ago, replacing cubicles with communal work tables. We also created a long open storage wall along one side to hold finishes and materials, and added shelving to display models, boards, and prototypes of current work. The new space has clear sight lines that encourage more verbal and visual communication. Every few months we do a seating shift. By having our designers rotate desks, it allows them to meet and work with different people within our studio and allow project teams to work more seamlessly together.
How long have you been in this space? Where did you work before that?
I've been at Rockwell Group for 6 years. Prior to joining the firm, I was a principal at STUDIOS Architecture. Rockwell Group has been located in the Springer building off of Union Square since the 1990s.
If you could change something about your workspace, what would it be?
We have a great space that reflects the culture of Rockwell Group. Every time a new client visits our studio they always comment that the creativity of the group is reflected in the vibrancy of the environment. There are 40 designers in our studio and we're still growing. I would love to expand my area to accommodate additional collaboration tables, storage, places to lay out drawings, and interstitial spaces for impromptu meetings.
Is there an office pet?
Yes, we have several actually. I have a 9-year-old Springerdoodle named Daisy who loves visiting the office. Monkey, a Shih Tzu-Brussels Griffon mix, is a daily fixture in our studio. He probably has accrued many vacation days by now.
Do you require music in the background? If so, who are some favorites?
Playing background music is neither encouraged or discouraged, but we generally don't play music in our area as it would prevent us from talking and collaborating with each other.
How do you record ideas?
I tend to email or text photos or screenshots to my teams – often in the middle of the night or while on one of my typical long haul flights.
Do you have an inspiration board? What's on it right now?
I actually don't have an inspiration board and feel that they aren't really useful as its just a deposit of visuals that have no relevance to solving specific problems for a project. Rockwell Group doesn't have a signature style and we're reluctant to predict or follow trends, as they tend to go stale as soon as you identify them. For us, design is about expressing the client's narrative so we tend to create project-specific boards and material boxes.
What is your creative process and/or creative workflow like? Does it change every project or do you keep it the same?
My creative process is different for every project. In some cases, I'll pitch my team with a concept that they will transform into a fully realized narrative. In other cases, a team will conceive and develop multiple concepts which I then review and edit to focus in a particular direction.
What kind of art/design/objects might you have scattered about the space?
We have many mock-ups and prototypes around our area, including a 15-foot long version of the brushstroke sculpture that we designed for Nobu Downtown.
Are there tools and/or machinery in your space?
Our studio is very fortunate to have a great in-house model shop and a skilled team of model makers. The model shop, along with the LAB (Rockwell Group's technology studio), and our material library, allow us as designers to investigate, experiment, and come up with unique solutions.
What tool(s) do you most enjoy using in the design process?
Our communal work tables.
Let's talk about how you're wired. Tell us about your tech arsenal/devices.
The LAB, Rockwell Group's design innovation studio, represents our strong commitment to explore and experiment with integrating technology into architecture. My studio has collaborated with the LAB on several projects, including LCD kaleidoscopes in the lobby of 605 Third Avenue (an office tower in midtown Manhattan) and a digital installation in the dining room of Nobu Downtown. These installations have been hugely successful in reinforcing the larger narrative and solutions for these projects.
What design software do you use, if any, and for what?
I wish I had more time to personally hunker down at the computer and use software in my design process, but I do still occasionally use Sketchup and you will often find me jumping onto the mouse to make edits as a designer is showing me progress. I also love to get into our InDesign presentations and make final tweaks before it goes out.
Is there a favorite project/piece you've worked on?
Daily Provisions, a 10-seat, neighborhood café-shop hybrid located in a tiny alcove on East 19th Street in Manhattan. The project provided us with an opportunity to work on an entirely new concept with Danny Meyer within the context of its larger sibling, Union Square Cafe.
Do you feel like you've "made it"? What has made you feel like you've become successful? At what moment/circumstances? Or what will it take to get there?
I hope not! I'm not sure if that should ever be a goal. But seeing young designers in my studio grow and evolve—and creating an environment that allows them to develop as designers—makes me feel like I've succeeded to some extent.
Tell us about a current project you're working on. What was the inspiration behind it?
We're designing the new headquarters for Warner Music Group in Los Angeles. The new offices will be located in a former Ford Motor Company factory and Model T showroom, so the building's history, in part, will be a source of inspiration. And needless to say, the breadth of Warner Music's history and artists is so exciting to tap into as we explore design solutions.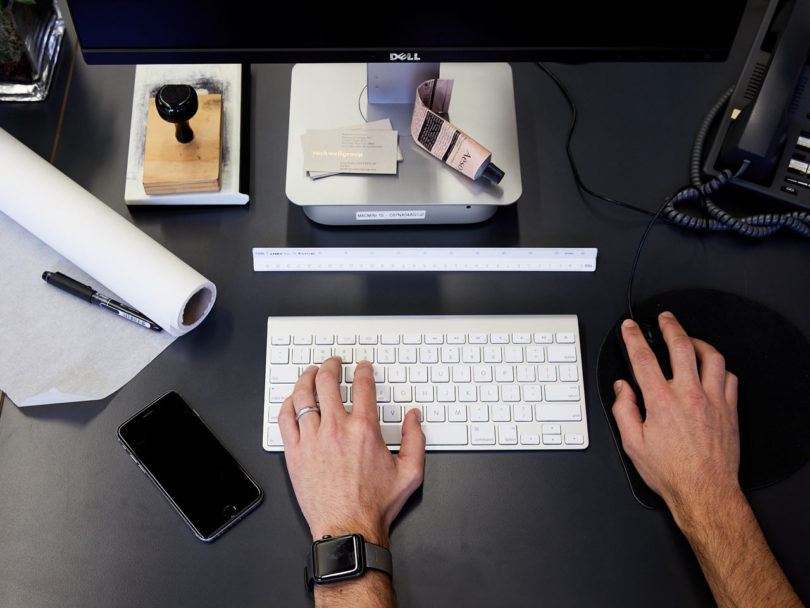 What's on your desk right now?
Nothing! I want my desk to be open and accessible and I'm kind of a clean freak. It's also a place where my teams meet with me constantly.
Do you have anything in your home that you've designed/created?
My weekend home upstate. I renovated an old farm house in New York's Hudson Valley with my husband. It was a great project we started 6 years ago, and of course it's one of those things that you never really finish. It has a nice balance of old and new, something that I've always been drawn to in making a place that feels comfortable.
Photos by Chaunté Vaughn.