For our first look at an office overseas for Where I Work, we head to Beirut, Lebanon, to the studio of architect Paul Kaloustian. Known for his minimalist structures, Kaloustian contacted us with images of his all-white space. Unsurprisingly, it echos his work's spare aesthetic, and his uncluttered, idea-driven approach to architecture. Unlike some our past subjects, this office, which is visually very contemporary, is low-tech in the sense that tools and technology are not the driving forces. Kaloustian earned his Master's at Harvard's Graduate School of Design and worked in Basel, Switzerland for Herzog & de Meuron before establishing his own practice in Beirut. His project "House In a Forest," which is currently on view at the Venice Biennale, recently won honorable mention in the Young Arab Architects Competition. Let's take a look at where the magic is conceived.
What kind of building are you in?
The office is located on a ground floor of an industrial building; it's actually a defunct former textile factory. The design intervention is based on an open abstract space addressing the duality of the existing walls kept intact with traces of a bygone era, and the new program with its subtle spatial reconfiguration based on furniture arrangements.
How is your office organized?
The office is an open space with long desks for computers and models, a lounge, and a meeting table with trees and books all around.
What is your typical work style?
It is very contradictory. Sometimes I find that messiness pushes me to be creative, and that distraction can be very helpful with the overlapping of models and drawings, books, art pictures, Radiohead, 1/1 mockups—the total mix. Sometimes I need to clean up the whole office, and start all over again, with Bach playing in the background.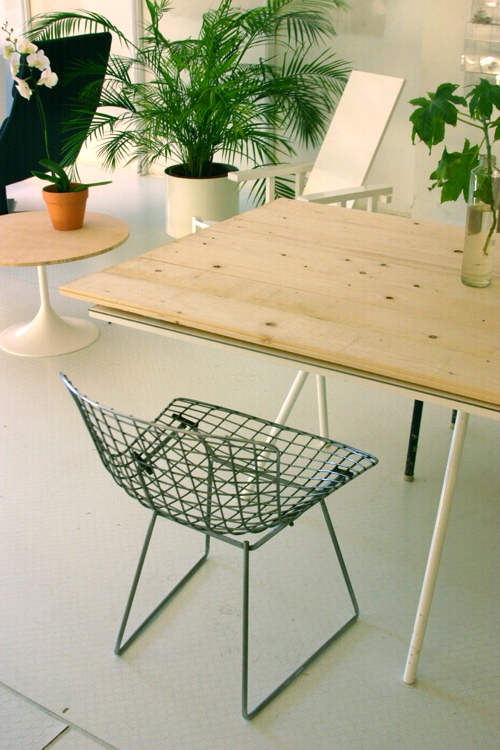 What are your tools of the trade?
A pencil, a cutter, and my laptop.
How do you record your ideas?
I use A4 papers in the office. When I'm at home or in the car, it's any piece of paper I can find.
What tool do you most enjoy using in the design process? 
I like to use the most generic pencils to write down my ideas and draw very primitive sketches. I use foam boards for study models.
Are there new sorts of materials or tools that you're excited about? 
Nothing new really. What's very interesting to me is space, and the experience it generates when people inhabit it.
Let's talk about how you're wired. Tell me about your tech arsenal.
I have a few computers and a couple of printers; the basics.
PC or Mac?
PC.
What design software do you use? 
Autocad.
What amazes you about what technology can do now that you would have thought impossible just a few years ago?
I've never really been a big fan of technology. It's really more abstract ideas that excite me than technology. Having said that, technology is certainly a tool I use, though for me the less excessive and the more discrete it is, the better. What's interesting to me is when technology is implemented in the process of the construction; when it facilitates a task for the people involved in the making of architecture.
Do you have a favorite piece that you've designed?

Perhaps the "Flower House" because it caused me the least anxiety during the design process! It's  a house in which the main space is a big outdoor courtyard covered with flowers that feels like is indoors.
Can you tell us about a current project you're working on?
"House In a Forest" which is currently exhibited at the Venice Biennale. It is a very small house that switches from a domestic scale to the scale of the forest.
What's on your desk right now?
Cigarettes.