For this month's edition of Where I Work, we hop across the pond to London to visit The BIO Agency's quirky new office. Creative Director Robin Souter designed the eclectic office to help nurture "big ideas" in an open concept space by encouraging collaboration and interaction. Combining a few parts eccentricity with a dash of Victorian farmer's market and a touch of organic-ness, you have a seriously inspiring place to work. Let's see how Souter and his fellow colleagues get down to business…
What is your typical work style?
I like to plan everything out first to figure out exactly what needs to be done. Then once I have all the pieces laid out like the first steps of a puzzle I start to fill in the missing gaps. Every time I complete a section I go back to it and see if I could do it better, constantly trying to improve. It's all very organised, but works on a system of constant improvement.
What's your studio environment like?
When designing our workspace, I wanted it to be a place where our employees felt they could enjoy spending their day, a home away from home with a comfortable but professional feel. The place stays pretty clutter-free for most of the week and we love cool background music to get the creative juices flowing.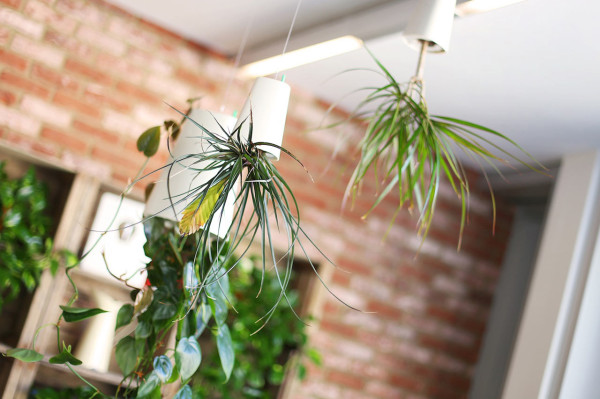 How is your office organized / arranged?
My office space is the entire office, so I spend most of my time floating about the place checking in on live projects. It's all designed as an open plan environment although we have a number of quirky board and meeting rooms, each with their own special design. We wanted to keep an earthy and organic feel throughout though.
How long have you been in this space? Where did you work before that?
One year. We basically outgrew both our previous office spaces and loved what the open space had to offer. We also loved the location. Right in the hub of Soho creativity. Before we were two roads down from where we are now, so not too far from the center of Soho.
If you could change something about your workspace, what would it be?
The BIO office is everything we could of really wanted from a workspace but if I could change one thing it would be our wish for a roof top garden. Then BIO would truly be complete! I'm sure my colleagues would vouch for me there.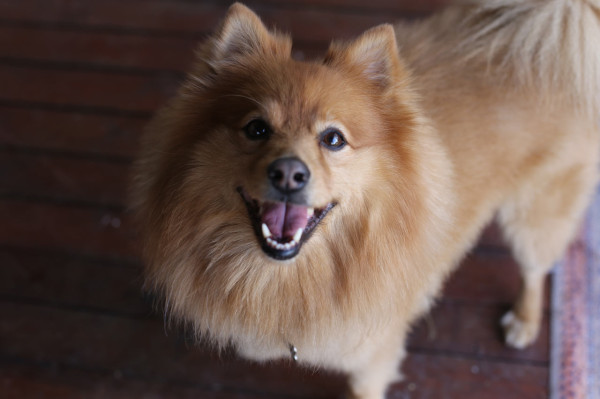 Is there an office pet?
Of course. Philip the dog is always gracing the BIO office with his presence. You will often find him begging for scraps around the desks at lunch, curled up snoozing on the office sofa or running around like a lunatic when he needs a pee. You know when Philip has been at BIO when you find half eaten chews randomly hidden around the office or come across a bone wedged down the back of the sofa!! As they say though, a pet makes the place a home and Phillip certainly does do that.
How do you record ideas?
Doodles, scamps, emails, notes, writing on napkins, anything will do. If I have an idea I put it down on whatever is closest to me at the time. It's usually my phone I write ideas up on then go back and sketch it out on good ol' school paper.
Do you have an inspiration board? What's on it right now?
Rooms at the office have white walls where ideas and inspirational thoughts are jotted down or stuck up. Decked out completely in white and using marker pens to write, this allows our employees to get their thoughts out of their heads and onto the wall for others to discuss. Then once one a project is done, it's simply rubbed away, ready and waiting for the next.
What kind of design objects might you have scattered about the space?
We kitted the agency out with items from an array of different places, reclamation yards mostly. The use of wood is very strong in the office as we wanted to create an earthy environment. You will find wooden crates randomly placed around the agency where fantastic greenery grows.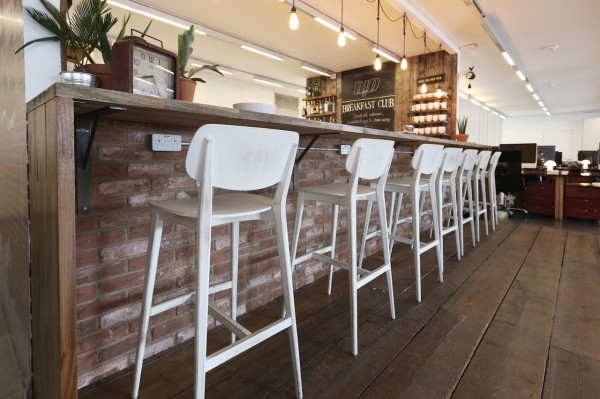 We love our kitchen. This is the real hub of the agency and you will often find bacon buttes here on a Friday morning.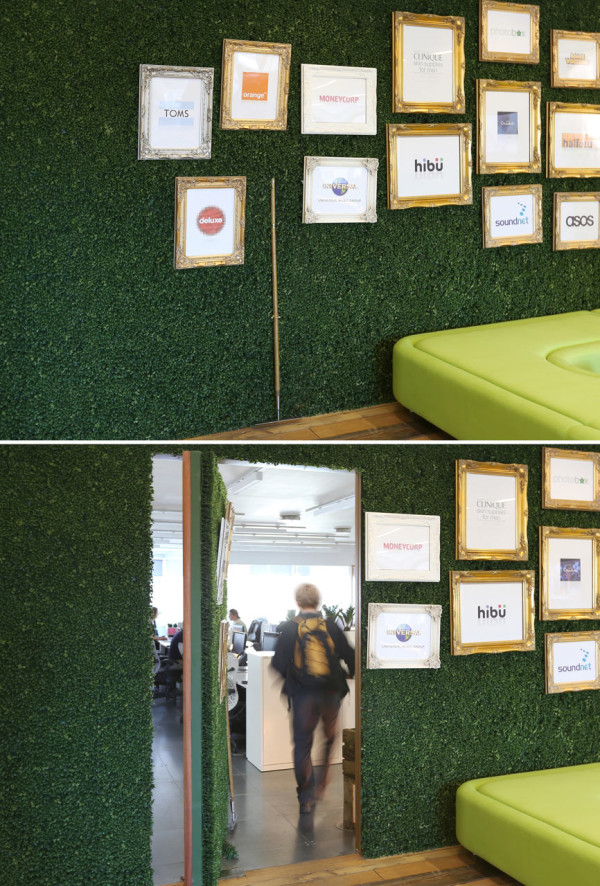 We have a fake hedge as you enter the office which houses our client portfolio in frames with a hidden door which opens up into the rest of the office.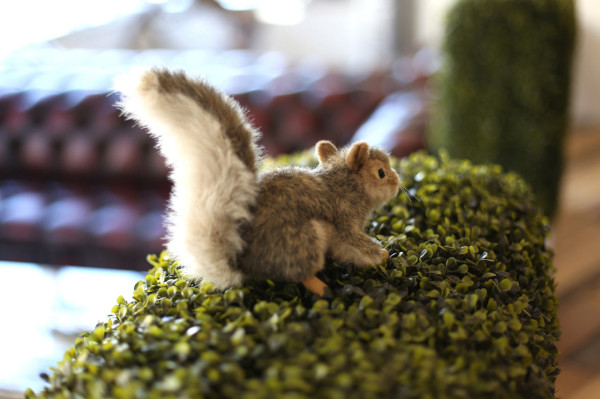 We also have a pet squirrel who we constantly find in different areas of the agency every day. We all think he comes alive at night.
Are there tools and / or machinery in your space?
Well if you ask the team, I'm sure they will tell you the foosball table is the real piece of machinery in the office as well as the kitchen blender which mixes up the cocktails every Friday night.
What tool do you most enjoy using in the design process?
A marker pen.
Let's talk about how you're wired. Tell me about your tech arsenal / devices.
I use a Mac laptop, I mainly use Photoshop and After Effects to create my ideas. That needs inspiration so Spotify and iTunes come in handy. I use an iPad to sketch ideas out in Paper and jot notes down. A Canon 5D comes in very handy too for quick photo shoots and great quality video.
Do you have a favorite project that you've designed?
This is a hard question to answer, all the work we've done has always been very different, so it's hard to compare like for like. If there was one project I had to choose it would be a brand site we designed for a new company called Nimbletank. It's a mobile site that should be looked at on an mobile device, not a desktop.
When did you feel like you "made it"? At what moment/circumstances?
It's a hard question to answer, it would probably be the day we had to scale our office up to 80 people and open a US office. It feels like you are getting on with work and making the company better along the way.
Tell us about a current project you're working on. What was the inspiration behind it?
We are working on a huge project for an important UK client (I can't say who as it's confidential). We are restructuring their website front and backend. It's got some really cool functionality in the project. I wish I could say what the project is so you can keep an eye out for it.
What's on your desk right now?
As a creative director I am very OCD. I like my desk to be clean and tidy as gives my head space to think. For me organisation is key. You will rarely find anything out of place bar the occasional coffee mug or empty beer bottle at the end of a long week.
Do you use any of your designs in your own home/life?
Yes from time to time, it's interesting to use what you have designed from a consumer's point of view. It always helps you to get closer to what you do.