This month's Where I Work visits designer Lisa Jones of Pigeon Toe Ceramics at her Portland, Oregon studio. Having learned how to throw in the fourth grade, she spent many years avoiding pottery all together. Feeling the tug to work with her hands again, Jones jumped back in and formed Pigeon Toe in 2009, producing two handmade collections a year. Focusing on craft, each object tells a story full of charm and a beautiful simplicity making each piece an instant classic. Let's see where that Pigeon Toe magic happens.
What is your typical work style?
It's very scheduled these days because I have a one year old. Gone are the days where I work 12 hours and into the wee hours. The business has thankfully matured past needing me that intensely anyway, which is a relief. I'm best when I'm freshly awake (although I'm always turning over a design problem again and again in my head all day long) and my son Wyatt gets me up at 6am so I'm usually into the studio early and home by 6pm. "Working from home" has evolved into a bit of a joke, plus it's not something I want to do when he's awake anyway.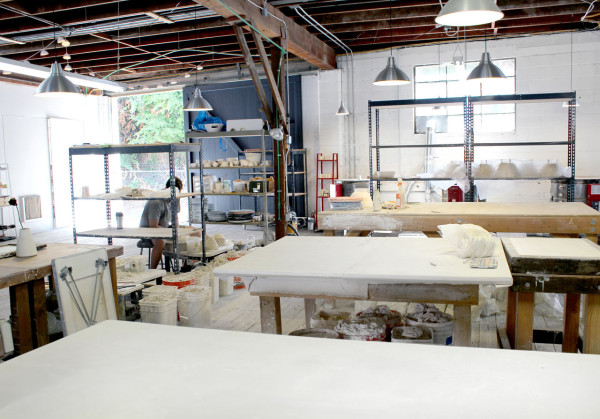 What's your studio environment like?
Clay is an unavoidably messy business, especially where there's multiple people making things with it every day (the mess is definitely organized). We keep it as clean as possible because a dirty pottery studio is a health hazard, but even so I tend to leave a faint trail of white footprints wherever I go. It's generally pretty quiet, just the low hum of the wheels turning and some music playing softly, although we're not past cranking it up and putting on something with a beat if we're pushing through a tough deadline.
How is your office organized/arranged?
I have a pretty large studio built out so I'm able to separate the messy from the clean work. Our showroom is in the very front, off which is my private office/studio I use for designing and tinkering. Then down a long hallway we have a kitchen and full bath plus a shipping office to keep finished product dust-free, and off that the production studio where the real mess exists. Most of the workspace is wide open and communal so my employees have company, but we do separate the glaze room since that involves chemicals and sanding which is unsafe to inhale.
How long have you been in this space? Where did you work before that?
We've been in this studio for 1.5 years. When I started Pigeon Toe I had 3 feet of shelf space at a community studio, then I upgraded to a private 200 square foot studio, and then I moved into a 1,000 square foot storefront/studio up the street. By the time year 3 rolled around we were desperate for more production space, and I was expecting my first baby, so the decision was made to find a large production facility and table the store for the time being. We found our current location, which is a 7,000 square foot warehouse, and have been renovating/tinkering ever since. It's way more space than we need by ourselves, so I invited some of my favorite local makers to share, and now we have a robust creative community of ceramicists, textile artists, jewelers, letterpress printers, and photographers.
If you could change something about your workspace, what would it be?
I sure wish it was cooler! The kilns can make it uncomfortably hot in the summer months, and given the size of the space we just can't afford to cool it, so summertime at Pigeon Toe means a lot of short shorts and hair stuck to your forehead.
Is there an office pet?
Sadly, my dog Henry recently passed away but he did hold down the fort at Pigeon Toe for years. He is missed.
How do you record ideas?
I work out most of my designs in my head before pen even touches paper, but then use a sketchbook to organize the concepts before I start throwing. Oftentimes designs change through the initial production process as we discover issues with fabrication or producing on a larger scale. Sometimes it takes 3 or 4 attempts before we finally have a finished sample (and sometimes, when I'm lucky, I get it exactly right on the first try – a small moment of joy and satisfaction).
Do you have an inspiration board? What's on it right now?
I use Pinterest predominantly for this, as most things are going digital these days, I do have a small pin board in my office with a few important photos (my husband, my son, etc.), archive Pigeon Toe postcards, and a few key pieces of artwork that serve as daily reminders or a mental oasis.
What kind of design objects might you have scattered about the space?
My office has a few pieces I've fallen in love with and want to see every day, but we're still 'settling in' to the space so it's fairly spartan in decoration. Most of the time and money I invest in things I have at home where I can enjoy them more frequently. Most of the objects in the studio, including much of the furniture, was designed by me and made by friends. Portland is a creatively rich place to live and work.
Are there tools and/or machinery in your space?
Many! Ceramics is both tool and time intensive. We have four kilns for firing our work, 2 wheels, a slipcasting mixer/table, an extruder, and probably hundreds of small tools for the fabrication process.
What tool do you most enjoy using in the design process?
I am forever devoted to my silicone rib. A rib is a tool used for shaping the walls of a pot, cleaning off excess material, and burnishing when trimming. It's what allows me to have such clean, smooth surfaces and also helps keep the porcelain from cracking, warping, or otherwise losing its shape.
Let's talk about how you're wired. Tell me about your tech arsenal/devices.
We have the usual Apple devotee set up. We use iMacs for shipping and design work, I have a MacBook Air for work on the go, and most of us have iPhones/iPods, etc. I use a Canon T3i for all of the images I take around the studio.
What design software do you use, and for what?
I use the Adobe Suite to edit images, lay out our catalog, and do other branding work. For social media (we're most active on Instagram) I use Camera+ and Afterlight to edit before uploading.
Do you have a favorite piece or collection that you've designed?
I usually have a pet piece in every collection, and about half the time they are the piece that takes awhile to build its audience, as opposed to the piece that is an immediate best-seller. The pieces I actually own: the Striped Planter, Large Tripot, Folded S+P Cellars, Optimist Tumbler, and the Small Rope Canister. I also have some prototypes plus a few custom light shades I made for myself.
When did you feel like you "made it"? With what design? At what moment/circumstances?
Aren't we all perpetually reaching for this moment? There have been a series of these along the way – small breaks that validated my vision and propelled me forward. I was blessed to be featured in Sunset my first year in business which was huge for us. Then, a successful first NY gift fair and later a partnership with Room & Board. Recently, I was featured in Dwell magazine, which has always been something I longed for, as it's one of my favorite publications. And I'd be lying if I didn't say that telling someone what you do and having them already know your brand doesn't give you a little charge, every time.
Tell us about a current project you're working on. What was the inspiration behind it?
Right now I'm working on my fall/winter line. As my brand evolves I find myself reaching for more complex shapes and ideas – this is the first season that really incorporates hand work – either by hand-forming beads and handles or lots of carving and cutting. I am still staying true to the minimalist in me but the process is definitely more intensive. It's important to feel challenged and inspired.
What's on your desk right now?
My desk is a mess of brass beads and other jewelry supplies right now. I'm finishing up my new line and making some ornaments and garlands for holiday, basically jewelry for the home. It's been a fun period of experimentation/chaos as I learn about a new process.
Do any of your designs live in your home or personal life?
I have very few pieces at home, probably because once I've made something enough times you get kind of sick of looking at it every day. And also if it's sellable it can be hard to justify taking it home. Thus, I have mostly seconds and a few pieces I made that I decided not to sell as part of our line for one reason or another. Whenever I have visitors people can't believe I have commercially made dinnerware – but when would I find the time to throw myself that many plates anyway?? I did recently take home some early versions of the colander I'm working on for fall and a lidded jar I'm absolutely in love with, so perhaps this is changing.