We've crushed on the work of the Brooklyn-based VOLK Furniture for several years now, whose owner, designer, and builder, Brian Volk-Zimmerman, handcrafts gorgeous wooden furniture with unique and unexpected details. He began his furniture making journey back in 2006 after being inspired by a simple wooden side chair, made by his great-great-great-great grandfather John Volk, a piece he discovered in the family farmhouse he grew up in. VOLK Furniture displays simplicity and care in each piece produced, something I'm sure late relative would appreciate. Besides working directly with clients, he also sells his creations through modern maker marketplace WorkOf. Now, let's explore where he designs and creates these pieces, in this month's Where I Work.
What is your typical work style?
When I first started VOLK, things were definitely more haphazard, but as the company has evolved I have tried to become more regimented. I feel like it would be impossible to get my head around the orders and production schedule without being fairly regimented day to day…And my son, Sebastian will be starting daycare in a month which will soon set my schedule for me! That being said, I do still work the occasional weekend.
What's your studio/work environment like?
I have a studio which I keep pretty clean and organized while downstairs in the communal shop things are much less under control. All of the fabrication happens downstairs in the shop and then pieces migrate upstairs for assembly. The office is also upstairs so it's a nice place to escape the noise and activity of a busy shop.
How is your office organized/arranged?
I have fabrication space in a communal shop with several other companies. We share the large tools and common spaces. Upstairs I have a studio which I rent from DLV Designs. It functions as a designs/prototyping studio, assembly space and I have also thrown together a small showroom setup so that I can bring clients there for meetings.
How long have you been in this space? Where did you work before that?
I have been in the communal shop now for 4 years and have had this studio now for 6 months. I worked in a cabinet shop in the Brooklyn Navy Yard for 5 years previously.
If you could change something about your workspace, what would it be?
I would love more natural light!!!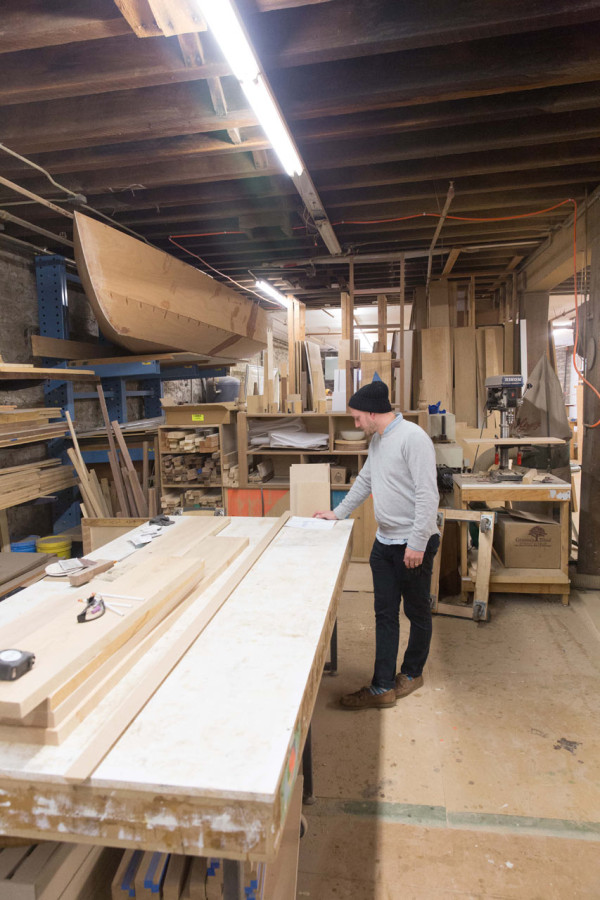 Do you require music in the background? If so, who are some favorites?
In the shop there is seemingly music coming from everywhere so unless you happen to be there late at night or on the weekend you are often at the mercy of others. I love to work to NPR but music-wise I guess I trend towards the Cure or New Order in the studio and Iron Maiden and occasionally some embarrassing hair rock downstairs in the shop.
How do you record ideas?
I have several notebooks that serve different purposes. One for ideas, one for notes from meetings and one for schedules etc.
Do you have an inspiration board? What's on it right now? 
I don't have an inspiration board. I have a cork board that has the most immediate projects posted, as well as drawings of ideas that need to be prototyped or that are nearing the production stage.
What is your creative process and/or creative workflow like? Does it change every project or do you keep it the same?
I am pretty systematic and scheduled when it comes to filling orders. Although many of our orders are custom sizes, the fabrication methods are the same so it is only when introducing a new product that things change up a bit. Efficiency is the most important aspect of setting up production for a new collection or design. Efficiency and flexibility so that it is something that can be easily produced in custom dimensions, finishes etc.
Let's talk about how you're wired. Tell us about your tech arsenal/devices.
I'm not very tech, unfortunately. Trying to get better.
What design software do you use, if any, and for what?
I use SketchUp for translating my scribbled drawings but I'm kind of an idiot with computers, so I have some other folks that I work with if I need things rendered in Rhino or CAD.
Do you feel like you've "made it"? What has made you feel like you've become
successful? At what moment/circumstances? Or what will it take to get there?
I don't feel like I will ever feel like I've "made it". I feel like each year the bar gets raised. Creatively, I don't think there would be much motivation to keep making things if you had somehow designed the perfect object. In the same vein, I think even after a great year there is always tons of room for improvement and growth.
Tell us about a current project you're working on. What was the inspiration behind it?
I just finished up a number of pieces for the ArtNet lounge at the Volta Art Fair. There are 4 daybeds, 4 benches, 6 occasional tables and 2 cocktail tables. I was able to work with my friend and LA based artist, Kate Wall on a custom print for the daybed and benches which was really great. The inspiration for the print was kind of "tropical through fog".
What's on your desk right now? 
At the moment, lots of copper and marble parts!
Do you have anything in your home that you've designed/created?
Yes!! Sometimes my wife will place dibs on certain pieces or I'll make an extra piece for an order because it fills a need at home.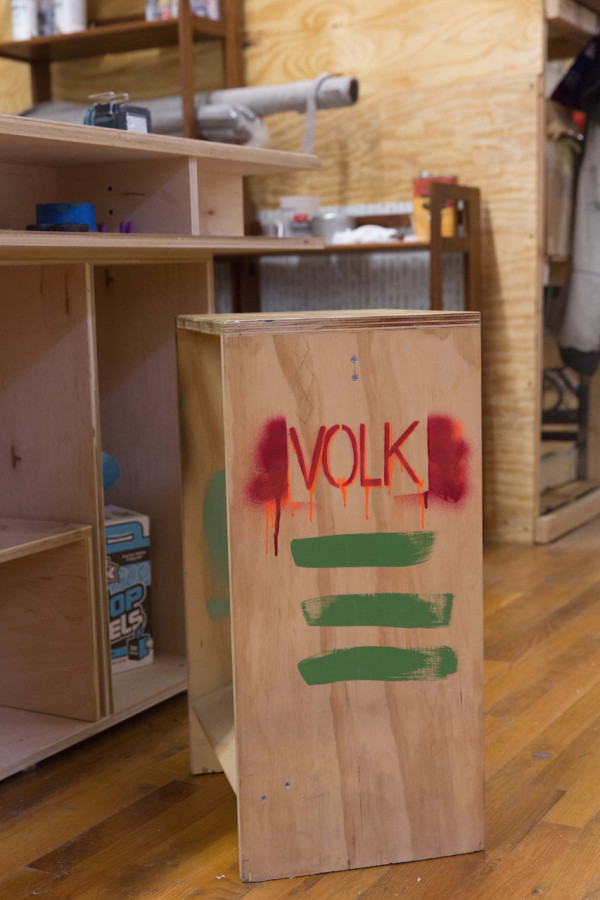 Visit VOLK at VOLK Furniture and on WorkOf.
Photos courtesy of WorkOf.